Emergency Room
Aaron Wright ('08)
---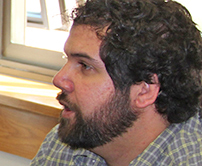 What drew you to this career?
I was drawn to the ER because I liked the idea of taking care of critical patients, and I liked the fast-paced atmosphere of the Emergency Department. Trauma was also very interesting.
How did you prepare for it?
As far as preparing for work in the Emergency Department (ED), it was mostly on the job training. Working on the medical floor prepares you for interacting with patients and hospital staff as well as how to budget your time; but in all actuality, the majority of my learning took place in the ED.
What do you like the most about this career?
The thing I like most about working in the ED is the chance to learn so much. Rarely do I go through an entire shift where I don't see something new or have the doctor teach me something new about medicine. Another nice aspect of working in the ED is the randomness of the patient population. I always have something new to look forward to every day I work.
What are the biggest challenges?
The ED can be a very challenging place to work. Time constraints are a huge problem when it gets busy. It feels like you don't have enough time to adequately take care of all your patients when you have a full load and more than one are critical. Thankfully, I work with a great team of people who are always able to help pick up the slack for each other.
What advice would you have for a student interested in this field?
The best advice I can give to students who want to work in the ED is to do their senior residency in an Emergency Department and work hard while there. The more certifications they are able to get only makes them look more appealing when trying to get hired as well.
Extra info about Aaron Wright:
Wright was working in the Emergency Department at Ivinson Memorial Hospital in Laramie at the writing of this article.