First Assist Nursing
Sean Ennist ('03)
---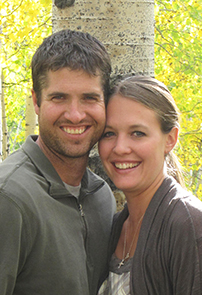 Pictured: Sean and his wife Debbie, also a graduate of the UW School of Nursing
What is "First Assist Nursing" (RNFA)?
The Association of periOperative Registered Nurses (AORN) says, "The Registered Nurse First Assistant (RNFA) is a perioperative registered nurse who functions in an expanded role or an Advanced Practice Registered Nurse (APRN) functioning as a first assistant. The RNFA role is recognized within the scope of nursing practice by the nurse practice acts in all 50 states."
A quick summary of a Wikipedia posting of an RNFA job description includes:
positioning the patient (to give best exposure for surgical procedure and for patient's comfort and safety)

providing visualization of the operative site

utilizing appropriate techniques to assist with hemostasis

participating in volume replacement or autotransfusion techniques as appropriate

utilizing appropriate techniques to assist with closure of body planes (sutures, staples, etc.)

selecting and applying appropriate wound dressings

providing assistance in securing drainage systems to tissue
What drew you to this career
Ennist says he worked as a scrub tech for a while and found that he loved surgery. Following his BSN graduation, he gained employment at Gem City Bone and Joint in Surgery and began taking the steps needed to get to an RNFA status.
How did you prepare for it?
Sean worked as an RN for two years, then found an RN First Assist (RNFA) program in Denver, Colorado at NIFA - National Institute of First Assisting. He participated in about 14-20 hours of study, a six-day suture course, then studied to take the "CNOR" exam. The Competency & Credentialing Institute (CCI) web site states, "CNOR is a definition not an acronym. CNOR certification is defined as: 'the documented validation of the professional achievement of identified standards of practice by an individual registered nurse providing care for patients before, during and after surgery.' CNOR means that you have demonstrated the knowledge and skills that denote competency in the specialized field of perioperative nursing." Then Sean put in two years of perioperative nursing, and 120 hours of clinical internship with a surgeon evaluation.
What do you like the most about this career?
"I enjoy seeing patients afterward around town, back to functioning normally," says Ennist. He also noted that in the OR he works in the same capacity as a Physician's Assistant (PA) or Advanced Practice Nurse (APN). He helps with positioning, visualization, hemostasis, performing the surgery as needed by the surgeon, closing different layers of tissue, applying dressings and splints if needed. The doctor often leaves during the last couple of layers of tissue, leaving the assistant in the OR. At this point, Sean becomes the leader fo the OR, collaborating with anesthesia, other nurses, and the surgical technicians to complete the procedure. He helps transfer the patient and make sure they leave the OR safely. He also noted that work as an RNFA is advantageous to facilities/employers, since the PA or APN are generally done after surgeries are over, but he as an RNFA can do regular nursing duties when he is done with assisting.
What are the biggest challenges?
The disadvantages to being an RNFA versus a Physician's Assistant (PA) or and Advanced Practice Nurse (APN) is that an RNFA makes less money; does not have prescriptive authority; does not get medical ID number which allows the PA or APN to charge such government agencies as Medicare or Medicaid. However, some advantages are that the RNFA generally makes more than a regular RN, and can subcontract themselves out to surgeons or facilities, thus running their own business.
What advice would you have for a student interested in this field?
"This career is for you if you love the Operating Room; if you enjoy working with your hands; if you have a mechanical aptitude since you are doing a lot of reconstructing.  Also, if you don't mind not talking to the patients, if you aren't one to seek affirmation, you would be good in this role. Most times you will not meet the patient beforehand, but come to them after they are draped. The patient won't remember you."
Extra info about Sean Ennist:
Ennist is currently the Operating Room Nurse Manager at Premier Bone & Joint.