Nursing Careers:
Nurse Educator
---
Anita All
PhD, RN (BSN '86)
1998 Distinguished Alumna
Dr. All, 1986 graduate of the UW BSN program and 1998 Distinguished Alumna from the University of Wyoming School of Nursing, recently became Professor and Director of the Auburn University/Auburn University Montgomery Joint MSN Program. Dr. All also has been named the Wachovia Endowed Professor.
What drew you to the career of nurse educator?
The best of intentions drew Anita All to the career of nurse educator. "I wouldn't say I switched careers [from clinical nursing to nurse educator] as much as I decided to make a difference in patient care by making a difference with students." After earning a master's in nursing and a Ph.D., she believed she could do "anything I wanted to. I learned firsthand the difference an educator can make in the care you provide and how you can help students (future nurses) look at all issues of the care continuum. I learned so much about who I was that I knew I had to buy a red pen and help others learn the valuable nursing and life lessons that I did."
How did you prepare for it?
At the start of Anita All's career, she didn't know that she would want to be a nurse educator. "It is really hard to remember so many years ago when I started nursing school, but when I was in high school there were maybe two choices for young women: teaching or nursing. Teaching was mostly K-12 and I knew I did not want to do that and no one ever discussed teaching beyond K-12. I liked people and thought I would be a good nurse. Of course, I never expected to faint at my first delivery or during a bone marrow biopsy on a young woman in an isolation room. At that time, I was not so sure if I made the right decision to be a nurse, but I stuck with it. I spent many of the early years doing clinical nursing in obstetrics, intensive care unit and the emergency department. I guess I loved the adrenaline." Anita continued to pursue higher education. Somewhere in between earning an associate's degree in nursing from Indiana University-Indianapolis in 1969 and completing a bachelor's in nursing at the University of Wyoming in 1986, she had the opportunity to teach at a community college. She says she was surprised to discover she enjoyed it, and worked to find a way to combine the two careers of nursing and teaching.
What do you like the most about this career?
I like making a difference and inspiring students to step through doors and be all that they can. It is exciting to see students understand and "get it". I think my first student to publish was more exciting than my first publications--well or at least very close.
What are the biggest challenges?
Currently my challenges are mixing the administrative and teaching role. Keeping all the balls bouncing at one time and putting out daily fires is the most challenging.
What advice would you have for a student interested in this field?
To consider the difference that can be made in a nurse's life by being the teacher they remember as their mentor, the one who they learned the most from--even if it was the hardest course!
For more information about Dr. All...
...check our Dr. All's Distinguished Alumni page.
For more input on the career of Nurse Educator and for other nursing careers...
...check out our Nursing Careers web page.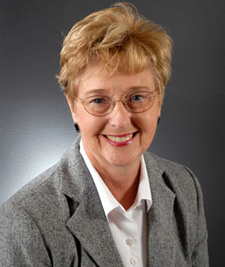 I consider myself first and foremost a nursing educator. I do lots of administrator "stuff" now, but still teach and would not give that up!