Pediatric Nurse Practitioner
Sue Hume
MS, RN, PNP
---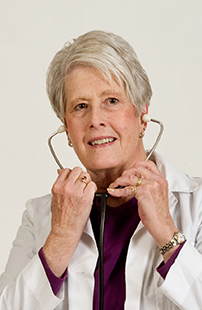 University of Wyoming School of Nursing
BSN '70

Colorado University
Pediatric Nurse Practitioner (PNP) '79

University of Wyoming School of Nursing
Post Master's Nurse Practitioner, '01
Sue Hume worked both as a pediatric nurse practitioner and in public health, so you will find spotlights on her under both nursing career topics. You will also find the information intermixed within each spotlight. Hume also taught on the UW School of Nursing faculty.
What drew you to this career?
I had an excellent clinical experience in Public Health with great instructors. And the director of Public Health got me interested in that career path. I also had two wonderful role models -- Child Health Associates and Pediatricians -- who encouraged me to become a Pediatric Nurse Practitioner.
How did you prepare for it?
I prepared for both careers but primarily Nurse Practitioner with (again) the help of the two Child Health Associates who spent time giving me "lunch time lectures" and also on the job training.  Much of anything learned is "OTJ".  It is also imperative to keep on learning--I attended as many conferences as I could, plus read, read, read. I also was never afraid to say I didn't know and asked for help.
What do you like the most about this career?
The independence in Public Health, the ability to help children and their families in both Public Health and as a Nurse Practitioner. It was so enjoyable to watch the children grow. As an instructor, it was rewarding to watch the students grow also, and now to hear about them and see them in their careers.
What are the biggest challenges?
POLITICS. No one told me about that in nursing school! The biggest challenge as a Public Health Nurse was being seen as a "welfare nurse." The biggest challenge as a new NP was acceptance.
What advice would you have for a student interested in this field?
Don't ever give up your dreams,  ask questions, and keep on learning.
Extra info about Sue Hume:
"Since I have retired, and am only subbing, I have started volunteering at the hospital doing newborn hearing screening. The father of the first baby I screened was someone I had seen as a baby--small world."