Nursing Careers:
Telemetry
---
Therese M. Comella, RN
(MS '97)
What is Telemetry?
The www.discovernursing.com web site defines Telemetry Nurse as follows: "A Telemetry Nurse monitors patient's vital signs with an electrocardiogram or other life sign-measuring device. They usually provide care to patients with gastrointestinal diseases, heart failure, diabetes, and other acute diagnoses. Most often they work in hospitals or other clinical facilities."
What drew you to the career of Telemetry?
I fell into this specialty in 1985 when the unit I was working on became a telemetry unit. We were trained to interpret telemetry strips, and taught and about medications that were being used then to control dysrhythmias. I  found it challenging to look at a strip, do the prescribed measurements, determine the rhythm and correlate this to the history or present medical concerns of the patient. I started to develop an interest in the heart and how it works.
How did you prepare for it?
We were required to attend classes that taught us how to read Telemetry strips and interpret rhythms. But more importantly, we were taught how to look at the patients' symptoms and treat them in a timely manner to avoid lethal outcomes. Now, it is a critical care specialty which usually requires taking a critical care course and becoming ACLS certified [trained in providing advanced cardiovascular life support].
What do you like the most about this career?
After all this time I still like using the telemetry rhythm as a piece of a bigger puzzle, which -- when put together with history and symptoms -- results in a better understanding of the patients disease. This assists me as the nurse to assess and anticipate problems. It also helps me teach my patient to better understand his own disease process. On a telemetry unit we receive all kinds of patients who require monitoring; Medical, Surgical, Oncology, etc. It is no longer just for rhythm problems.
What are the biggest challenges?
A telemetry nurse has to be ready to act quickly when dysrhythmias or any other emergent event occurs. It can be stressful and exhilarating. Your training prepares for these events. The biggest challenges are to stay current with the newest cardiac medications, procedures and treatments.
What advice would you have for a student interested in this field?
Apply for a job on a telemetry unit in a CNA [Certified Nursing Assistant] or unit clerk capacity while in school, or possibly ask a nurse who works on a telemetry unit if he or she would let you shadow them for a shift. I became a telemetry nurse accidentally, but I have never regretted it. That was 27 years ago. Go ahead! Try it!
Extra info about you! What are you and have you been doing?
I am a full-time faculty member in a Diploma/BSN program in Philadelphia, Aria Health School of Nursing (Formerly Frankford Hospital School of Nursing), affiliated with Penn State. I have an interest in increasing the knowledge of healthcare providers in care of the transgender population and encouraging more faculty to include this aspect of human diversity in their school curriculums. I have presented posters on this topic at two evidence-based practice conferences in Pennsylvania and will be doing a podium presentation in October 2012.

Comella also has a career spot for Nurse Educator. Check it out by clicking on the link.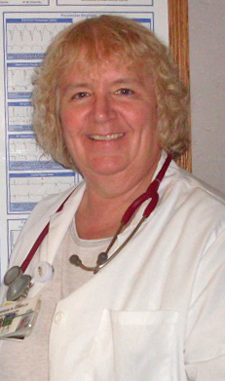 "After all this time, I still like using the telemetry rhythm as a piece of a bigger puzzle, which -- when put together with history and symptoms -- results in a better understanding of the patient's disease."