Denise Gable Wins Staff Award
2017 UWYO Supervisor of the Year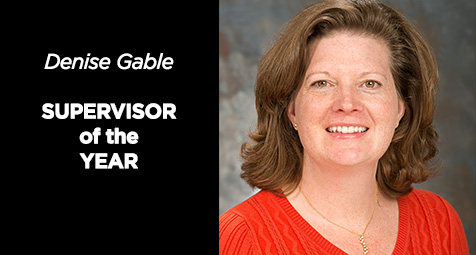 Denise Gable
Business Manager for the University of Wyoming Fay W. Whitney School of Nursing...
...was honored with the Supervisor of the Year Award at the annual Staff Recognition Day on the Laramie campus on Tuesday, April 10, 2017.
To meet the award qualifications...
...a nominee needed to be approachable, adaptable, positive and considerate, and should exhibit great face-to-face communication skills as well as mentor employees to help them improve their performance. The supervisor should consistently model the expected behavioral code and work alongside employees. The winning supervisor should coach employees with constructive criticism, positive feedback and incentives and rewards. Additionally, the award winner should encourage employees to take advantage of development opportunities and to maintain a healthy work/life balance.
Meeting and going beyond the requirements...
Just a few comments from the pages of staff comments in support of Gable's nomination for the award follow:
When one of us is struggling with a task or getting frustrated with a process, she does not just come in and tell us how to do it differently or more efficiently. She asks questions to get us to reflect on our process and view the problem from another angle, which often causes us to generate innovative ideas ourselves. She never approaches a situation with a negative attitude and always wants us to do our best.

Denise has set a positive example...at UW. She has volunteered for all kinds of committees across campus—not only to help as a volunteer, but to become more aware of the situations facing the school and university so that she can work to make things better from the inside.

She is one who believes in a hands-off approach and lets us do our job without her hovering. She encourages us to be independent and gives us great praise for our successes. Knowing she trusts us to do the best with our jobs, we rise to the occasion and take ownership of our duties.

She is best communicating in person; she chooses her words carefully, making sure she is saying what is going to build us up, not tear us down. She is always working hard to find the right words that will encourage and inspire. She often has hilarious examples that apply to our situations from the Friends TV show!

Positive feedback comes in many forms from our supervisor. It can be as simple as bringing in fresh baked goods to asking us to participate in a committee or coming right out and just saying "thank you," or "great job." She always gives credit where credit is due when a project is completed on time or one us of has an idea for change in the office to increase productivity.

She likes to have a staff fun day once a month where the staff all get together and share a meal, complete an activity or just have a chance to sit and visit. It can be as simple as a macaroni and cheese cook off or decorating cookies. It is nice to have the opportunity to learn more about co-workers on a more personal level. It helps to keep the morale up and makes me proud to be part of such an amazing group.

Denise MODELS maintaining a healthy work/life balance to us as staff. She incorporates a variety of interesting events in her own life, volunteering at the Animal Care Center for "cat cuddling"; inviting us to come to her "Curling Team" games outside of work; splits up the workdays with destressors, having incorporated a "Popcorn Thursday" for staff, faculty and students. She also encourages time off, understanding our individual needs...
Congratulations, Denise Gable!
More about UW's Staff Recognition Day...
...is held annually each spring on the Laramie Campus. For more about the event and a listing of other awards and their associated winners, please check out the UW article: http://www.uwyo.edu/uw/news/2017/04/uw-employees-honored-at-staff-recognition-day.html
Congratulations, Denise Gable!
---------------
Article posted 4/11/2017