Gaurdia Banister "Charged" Podcast
Why We Need More Diversity in Nursing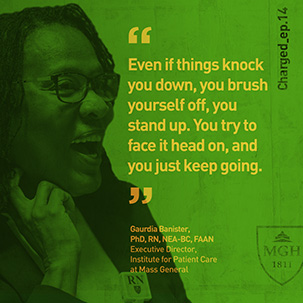 ----------
2008 Distinguished Alumna Gaurdia Banister speaks in 2018 on
"Why We Need More Diversity in Nursing"
...through a "Charged" broadcast on Stories from the Women Leading Health Care from Massachusetts General.  Banister graduated with her BSN in 1980, embarking on a stellar career which led to her current position as Executive Director, The Institute for Patient Care, Massachusetts General Hospital in Boston, Massachusetts. 
This new podcast series from MGH called Charged! features female health care innovators, of which Banister is the first to be published. In Banister's episode, she says she talks about..."the importance of culturally sensitive care and how a hospital staff should reflect the makeup of the community they serve." 
----------
More about Banister:
----------
Article posted 12/19/2018 / rev. 11/5/2019