DNP Student Manuscript Published
James T. Kuster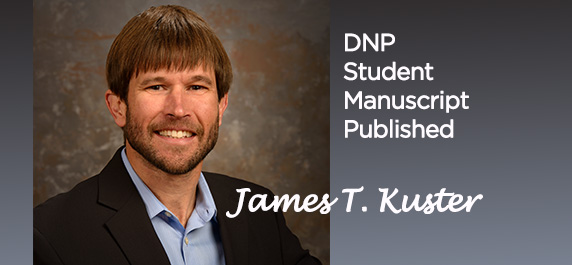 James Kuster, Doctor of Nursing Practice student at the UW Fay W. Whitney School of Nursing, is listed as an author in an article published recently in the Journal of Immigrant and Minority Health [published online: 12 December 2015]. The article is titled, "Relationship Between Eating Behavior and Dietary Intake in Rural Mexican-American Mothers." Kuster is in his second year of the DNP Program. The research done for the article was completed during his undergraduate studies.
What attracted Kuster to the research?
The current article was based on a secondary data analysis that Kuster completed in a Honors Research Course during his BSN studies at the University of Nebraska Medical Center.  Dr. Trina Aguirre, the article's first author, was Kuster's mentor during this course.
Comments about being a published author
Kuster said a lot of hard work went into the secondary data analysis so he was glad to see it reach publication. His appreciation for research and the scientists that conduct it has also increased by going through this process: "I now know just how hard researcher scientists work to find answers for their questions; it is these answers that ultimately improve health care delivery."
Current research interest and future plans
Kuster is interested in quality improvement within mental health outpatient care. He plans to develop and implement a quality improvement project at a Laramie mental health clinic for his DNP project. Acknowledging research as an important aspect for delivering evidence-based mental health care, he plans to stay up-to-date on current research and implement its evidence in practice.
More about Kuster
Kuster is the first liaison between the Graduate Nursing Student Academy (GNSA) and the state of Wyoming. The American Association of Colleges of Nursing (AACN) formed the GNSA to provide high value programs, services, and resources to nursing students enrolled in master's and doctoral programs. As part of the GNSA, Kuster interviewed the UW School of Nursing Dean Mary Burman as part of a "Great Minds in Nursing:" video series.
-----
01-15-2016