Ethan Atwood: BRAND 2017
Interesting individuals with previous bachelors degrees:
How will they use those degrees to enhance future nursing care?
Ethan Atwood from Casper, with a previous degree in microbiology and a minor in molecular biology, started the UW BRAND (Bachelor's Reach for Accelerated Nursing Degree) Program this summer 2017. Ethan and his fellow BRAND students are all interesting individuals with a previous bachelor's degree. Previous degrees in BRAND classes typically range the full gamut from science-related fields to the arts, from English to Business and anything else you could imagine. But the students all have something in common--their desire to now pursue nursing. We plan to follow Ethan and his classmates, first--to review not only what drew them to nursing (and to UW BRAND!), but secondly-- to see how these individuals use their previous degrees to enhance future nursing care.
Atwood, pictured below (left), visits with students from different UW Nursing Programs regarding their particular paths toward becoming a registered nurse: Taylor Schumann (center), online RN-BSN Completion Program; and Noah Katz, on-campus Basic BSN Program.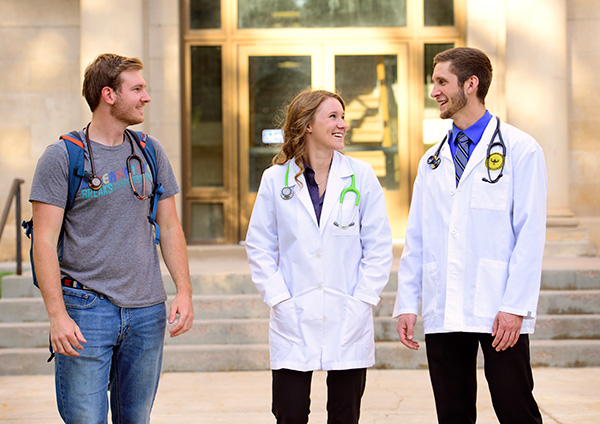 What drew Atwood to nursing?
Looking for more direct patient contact
I initially started college as a biomedical engineer at a university in the upper peninsula of Michigan, so I always knew I wanted to be a part of the medical community in some capacity. I eventually transferred to the University of Wyoming and switched my major with the hopes of pursuing a career that had more opportunity for direct patient contact. I had tossed around the idea of applying to medical school, PA [Physician's Assistant] school, medical perfusion school, or MPH [Masters of Public Health] school.
"It came together for me" while shadowing a nurse practitioner
Somewhere in the college timeline, I had the opportunity to shadow a nurse practitioner within an acute care setting. They explained to me the value of having gone to nursing school and the holistic approach to medicine they received. At that point, it came together for me; nursing seemed like the profession I had been looking for all along. Additionally, there seemed to be opportunities to advance my career to a terminal degree, which was highly appealing to me. [The terminal degree in nursing is the Doctor of Nursing Practice.]
BRAND record of accomplishment, faculty enthusiasm big draw
After graduating with my first degree, I had applied to many programs including MPH programs all around the country. The BRAND program and its record of accomplishment (NCLEX pass rate and job placement) presented the best opportunities for learning the nursing profession. During my on campus interview, I had asked two professors what the true mission statement of the BRAND program was. Their genuine enthusiasm toward BRAND showed me that the educators of this program were there truly to help students succeed and become the best nurses they could be.
Transition: Adjusting to rigors of BRAND program
My previous major was very much black and white..
I had classical college courses with lecture, PowerPoints, and laboratory work with defined outcomes. Courses included microbial genetics, immunology, microbial metabolism and physiology, all heavily based in biochemistry and genetics.
The change to accelerated nursing school was a surprising shift...
...from those objective subjects I previously had. In comparison, my previous major and nursing are very different from one another. In the BRAND program, it takes a highly self-motivated individual to learn the coursework and come to class and lab prepared. With the pace of the program, missing a class/lab is like missing a week's worth of schools. Adapting from the classical college learning method to such a dynamic form of learning was a shock.
Evidence Based Practice bridges gap between two educational worlds
Despite these differences between my previous major and nursing, an idea called Evidence Based Practice (EBP) has been one foundational nursing element that has bridged the gap between my two educational worlds. EBP includes the integration of systematic research, which fuels clinical decision-making and is how my objective academic world has met my new dynamic world of nursing.
How do you foresee using your previous major with nursing in the future?
Microbiology and Molecular biology gave me incredible insight into an unseen world. Having extensively studied epidemiological principals, knowledge of pathogens, and my use of the scientific process, this will aid in a more informed method of care from me. Even in this century, there are many stereotypes toward the nursing profession. By utilizing the scientific background that I have, I can advocate through my actions that nurses have an extremely important role in patient care beyond traditional thought.
What is your final career goal at this point?
At this point, my final career goal is to attend DNP School to become an APRN (Advance Practice Registered Nurse), such as a nurse practitioner.
-----------------
Stay tuned with us for a follow-up on Atwood's future! And be looking for the next classmate's story...
Posted 7/3/2017