Robin Cole: 2017 Convocation Speaker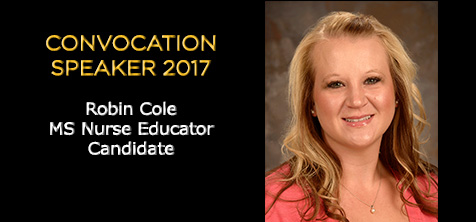 Master of Science Nurse Educator Candidate to Speak
Robin S. Cole, Masters of Science Nurse Educator candidate, is slated as speaker for the Nursing Convocation Ceremony:
Friday, May 12, 2017
Arts and Sciences Auditorium
2-4 p.m.

Cole was chosen by her classmates for this honor. "I was very surprised to be nominated by my peers to speak at graduation," says Cole. "It is an honor to speak to such a dedicated group of nurse leaders and their families." Cole plans to address the graduating nursing students with a talk focused on leadership in the nursing profession.
University of Wyoming Fay W. Whitney School of Nursing Dean Mary Burman comments on the choice of Cole for Convocation speaker: "Nursing is a profession that requires lifelong learning, and graduates of our MS program serve in a variety of educational roles at colleges and health care organizations such as hospitals. So we are really excited to have Robin Cole as our speaker to talk about her experiences as a learner as well as an educator in nursing."
"A Wyoming girl at heart"
Though Cole was born in Craig, Colorado, her family is from Baggs, Wyoming. "Craig was the closest hospital," explains Cole. "I lived in Baggs up until age five, then my family moved to Cody. I lived there for four years, and then we moved to Green River. I would consider Green River my hometown, since I grew up and graduated high school there. Not sure you needed to know everywhere I have lived, but I am a Wyoming girl at heart! I will never leave!"
Cole received her Associate Degree in Nursing (ADN) from Western Wyoming Community College (WWCC) and her Bachelors of Science in Nursing (BSN) from UW. Most of her nursing career has been spent in Evanston, where she lived for the past seven years prior to moving to Cheyenne last August.
Coming back for graduate work--in order to make an impact
Cole says she decided to come back to school for her Masters of Science in Nursing degree because she knew she wanted to teach nursing. "I have always jumped at the opportunity to precept students and new nurses. My nursing instructors had such a lasting impression on me, and I knew I wanted to have a similar impact on others."
During graduate school, Cole says she has experienced a transition from clinical to classroom. "During my first year of school, I lived in Evanston and had a full-time job as a registered nurse in obstetrics at Evanston Regional Hospital. I also had a part-time job as adjunct nursing faculty for Western Wyoming Community College, and a "PRN" job [from the Latin "pro re nata" meaning "when necessary"] as a post-anesthesia care unit (PACU) registered nurse at a surgical center."
But last August, Cole and her husband took their two two young boys and moved to Cheyenne, where she has been teaching at Laramie County Community College (LCCC) on the nursing faculty. "After graduation I plan to continue to work at LCCC and grow as an educator. I look forward to their new curriculum change with ReNEW [Revolutionizing Nursing Education in Wyoming]!"
---------------
Article posted 4/17/2017