Katy Morrison
Capstone Practicum 2017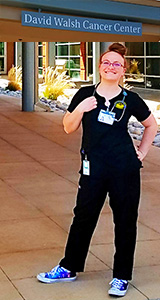 My capstone experience...
...has been full of very special moments here in the infusion center. There is no one specific instance that really sticks out to me, but more a collection of moments. The most rewarding experiences that I've had are the ones where I really connect with a patient on a personal level. I try to spend the time to get to know my patients and their specific needs and likes and remember things about their routines. It really makes my day and instills the belief in me that "this is exactly where I want to be, and what I want to be doing," when I connect with a patient. When he or she tells me that I've been a great help, I've made their day better, they think I will be a good nurse, or they want me to stay after graduation, I get the joy and fulfillment that nursing brings. Helping to brighten someone's day, and hearing that it really does help them and they appreciate it, makes what I do so satisfying and rewarding. - Katy Morrison
David Walsh Cancer Center at Sterling Regional Medical Center in Sterling, Colorado
More than just nursing skills...
I am learning about holistic care in the infusion center. The care of a patient with cancer involves far more than just provision of chemotherapy. It is ensuring the patient has a quality of life outside of the infusion center. Working with physicians, nurse practitioners, pharmacists, and of course the patients themselves, we work on schedules and therapies that fit the patient's specific needs. Everyone at the David Walsh Cancer Center is treated like a unique and valued individual. We understand that no person's experience with cancer is identical, and we approach their care as such.
While as a nursing student I am not allowed to administer chemotherapy, I have still gotten the chance to perform many other skills, both related and unrelated to cancer. Most commonly, patients we get here have PICC lines or internal ports. I routinely access both of these CVADs. Ports are accessed by a sterile procedure, and dressing changes on both ports and PICCs are sterile as well, so I have been getting a lot of practice with sterile procedures!
So much practice on skills and learning procedures and policies...
I have also had the opportunity to start some IVs and do miscellaneous procedures such as suprapubic catheter changes. One thing I was surprised to discover is that the infusion center serves more than just chemotherapy patients. We also provide care for patients needing weeks/months long antibiotic regimens, other IV infusions, and some subQ and IM injections. So I have had the opportunity to provide a multitude of IV medications and fluids for patients with varying needs. One of the most important things we do in the infusion center is make assessments on our patients receiving therapy. For our chemotherapy/radiation patients, it is especially important to note any new changes occurring in their health status. Some changes may be indicative of worsening status or cancer metastasis (bone pain, neurological changes), while some may indicate a toxic side effect of the chemotherapy medication (shortness of breath, peripheral neuropathy). I have also learned how to monitor and intervene in the case of an adverse reaction to a chemotherapy, antibiotic, or other medication being administered. Another procedure I have done with relative frequency is blood transfusions. I've learned the procedures and policies that go along with this skill, and accompanied the nurses to the blood bank to see how the blood is verified and changes hands.
Confirming a passion
I have decided 100% that I am most passionate about oncology/infusion therapy. The pace is steady but not overwhelming. The patients are the most inspiring, fascinating, and kindhearted individuals I have had the privilege of working with, and I would love to continue to do so. The nurses in infusion are extremely well educated and compassionate. It is an environment that I can really picture myself in.
Overall...
...My experience in the infusion center at the David Walsh Cancer Center has been fantastic. It is incredibly rewarding, exciting, fascinating, and an incredible and unique learning opportunity. The patients and nurses have become like friends and family, none of whom I will ever forget. They have already helped shape who I am and who I will become as a nurse in a very special way. I couldn't ask for a better capstone experience!
---
Story placed: 4/17/2017