Laura Williams
Capstone Practicum 2017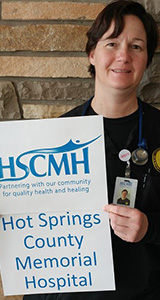 My capstone experience...
...has made me aware that every day in nursing will be different and challenging and that I still have much to learn. I was surprised at the diversity of health concerns and problems that I was able to observe during my clinical experience. - Laura Williams
Hot Spring County Memorial Hospital
Thermopolis, Wyoming is the home of Hot Spring County Memorial Hospital. This rural county hospital has a lot to offer, and I was given the opportunity to do my senior capstone for the University of Wyoming BSN program at this location. I spent most of my time on the Medical / Obstetric Floor and in the Emergency Room, but also experienced the Ambulatory / Surgical Unit. 
Thermopolis attracts an older population due to world famous natural hot springs. This population is in need of the expertise that the hospital offers due to the complex medical complications some of the residents have. Patients of this older population for whom I had the opportunity to provide care had many health problems, which made care challenging. I also provided care for many members of the areas' younger rural population, who had serious medical issues--some with substance abuse problems and mental illness. Hot Springs County Memorial Hospital had a wide variety of patients that helped expose me to many different kinds of medical problems to help me build a well-rounded nursing knowledge and to practice my nursing skills.
I enjoyed working within different departments in the hospital that worked together with families and patients to ensure quality care to every patient. All of the hospital personnel and volunteers were friendly and willing to answer questions and make everyone feel welcome.  It was clear the staff was proud to work for a valued place in the community and worked hard to ensure everyone who entered the hospital left with a good experience.
Overall...
I have learned that my future career in nursing will consist of never ending learning and every day will bring new challenges and unique people to meet.
---
Story placed: 4/14/2017