Michelle Duay
Capstone Practicum 2017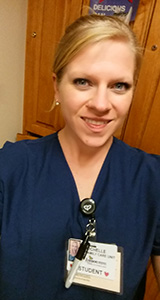 My capstone experience...
... has been spent forming relationships with my patients, being involved with care in a variety of ways, developing my skills and increasing my knowledge--as well as making friends with the staff with whom I work. This experience has strengthened me and helped me grow. - Michelle Duay
Ivinson Memorial Hospital - Family Care Unit
This unit provides care for pediatrics, OB (Women's Health), and Labor and Delivery. With the majority of my patients being laboring moms-to-be, I have found that I get extra practice with IV starts, admits and discharges, charting, vitals, and med passing. This unit has really allowed me to provide continuity of care and build patient rapport. 
I came into this semester with a strong desire to care for pediatric patients but have found that I enjoy Labor and Delivery. This was actual a bit surprising to me. While I  still am shooting for pediatrics, I realize that there are many avenues of nursing and can find interesting aspects and joy in different areas.
This whole semester has been highly rewarding and valuable for me. I can easily discuss many rewarding experiences from positive patient care experiences to helping in code situations to what all I have learned from my preceptor. But thinking through all I've been through so far at IMH, my most rewarding experience has been taking lead on "baby catching." Taking the baby from the doctor and placing baby on mom's chest, helping stimulate baby, taking babies' first vitals and calculating APGARs, ensuring the baby is safe and healthy--providing that first care is highly rewarding. It is so wonderful to take part of such an experience.
Overall...
Overall, I feel nothing can compare to the confidence I have gained. This didn't happen in one or two shifts but in the entirety of my capstone. My preceptor has allowed me to use my skills and knowledge in patient care. She has provided me opportunities to care for patients as lead nurse, and has been there to support me throughout the process. She has shared with me her knowledge and encouraged me to do my best in all I do. I am excited be able to graduate and move forward into my nursing career. I know the skills and knowledge I gained from this experience has been incredibly valuable to me and my future.
---
Story placed: 4/17/2017