Ryan Russi: Combining Nursing and Athletics
Is it doable to major in Nursing and participate in a competitive sport like Diving at the same time? Ryan Russi, competitive diver on the UW Diving Team, gives us a resounding "Yes!" Russi was recently named Western Athletic Conference Diver of the Week (January 2017).
Russi comes to Windy Wyoming from Murrieta, California. "The adjustment of coming to Wyoming from California really wasn't too bad," says Russi, when asked about the transition. Delicately avoiding the subject of Wyoming wind, he instead focused on winter temperatures: "The extreme cold wasn't a new experience, since I have been a skier since I was 2½ years old!"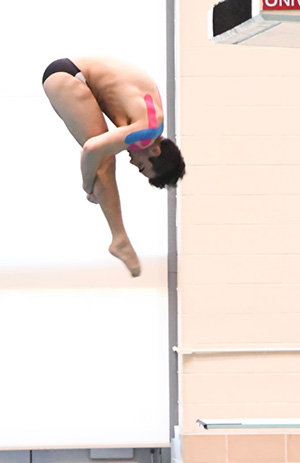 UWYO Nursing supportive of athletes
When asked why Russi chose to come to the University of Wyoming, Russi said there were many things about Wyoming that were appealing to him, but the one thing that set UW apart from other schools was the nursing program. "When I was going through the athletic recruiting process, I had to turn down offers from schools because they weren't supportive of me being a nursing major. UW was the only school I was recruited by where the nursing program was supportive of me being a student athlete, and the athletic department was supportive of me being a nursing major."
Nursing career a solid choice
Russi comes from a family of medical professionals. His dad has been a firefighter/EMT for 35 years, his mother a nurse for 34, "So It was almost like I was destined to be in the medical field," says Russi. "I never had an 'aha' moment where I was, like, 'nursing is for me,'" he comments, but his experiences have drawn him to the same conclusion. Experiences? "Watching my parents save a life in front of me was huge for me. And when my grandma had a stroke and my mom took it really hard, her nursing friends were the ones that helped her pick up the pieces. I feel like that's something really special and unique about the nursing profession: it is such a special community. I am really looking forward to being a part of it."
Making athletics + nursing work
"I'm not going to lie, it has been challenging," shares Russi. "Being a student athlete is a huge time commitment, and nursing is just as much—if not more—of a time commitment."
Russi gives credit to his time management skills for his success so far in making both athletics and nursing work. He adds, "The really good thing about being in athletics is that I am on a consistent schedule, so it keeps me organized." Due to successful employment of time management skills, Russi is on track to graduate from nursing in four years rather than five—the typical timing for most nursing student athletes. "Even though it is rough at times and my stress can get pretty high," comments Russi, "I wouldn't change it in any way, because the crazy schedule keeps me grounded and focused on the two most important aspects of my life."
Russi's "favorite things" about the UWYO nursing program
Amazing faculty

Awesome classmates

Clinical aspects of the program
"We get to tie all of our knowledge that we have accumulated so far at the clinical sites/hospitals," says Russi, "applying it to actual people. At the same time, we end up learning so much more to help add to our knowledge from the classroom. I know that the further I go in my career, there will be days when this is not as exciting, but as a budding nursing professional, I am very energetic and excited about the unique clinical opportunities that the UW nursing program provides."
Advice for potential students wanting to combine athletics with nursing
Time management
"Make sure to stay on top of everything!" says Russi. Nursing is a very demanding major, and for good reason! But if you can manage your time well and learn how to prioritize appropriately, it will make your whole experience with college and nursing school a lot more bearable."
Communication
Another piece of advice from Russi: "Communication is huge. If you have active communication with your professors, advisors, coaches and classmates, it will save you a lot of stress and will only help you be a more successful nursing student and student athlete."
----------
Updated 3/27/2017