DJ Hayden
Capstone Practicum 2018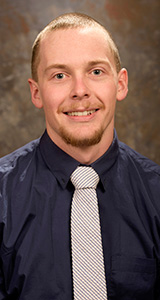 My capstone experience...
...was in the Cheyenne Regional Medical Center (CRMC) Emergency Department, which sees just about everything from wound checks, to level one traumas, a case of a runny nose to a stroke or cardiac arrest. I have been fortunate enough to see and participate in this wide variety of medical emergencies.
Reinforcing a desire and passion for emergency medicine
I came into my capstone experience wanting to go into emergency medicine, acute and critical care, with the long term goal of one day becoming a flight nurse. Being here has done nothing but reinforce this desire and passion for emergency medicine. I have been able to see for myself how deep this area of nursing can go, and I can't wait to dive in.


Refining skills, working in a team, and comforting patients
At CRMC I have been able to refine assessments of patients, start hundreds of IV's, and collaborate with a multidisciplinary team to best care for patients. I have been able to meet people from all walks of life, hear their stories, and comfort them in their time of need.
Overall...
...my time here has been absolutely amazing. My preceptor has been wonderful to work with. He has pushed me to develop my skills and fills in any gaps in knowledge I have. I have been able to see a wide variety of medical and traumatic emergencies, as well as Mental Health patients and Urgent Care type situations. I feel like the last three semester have done well preparing me in each individual skill and pillar of knowledge, but I had no idea how to put it all together until I arrived for my first day here.
---
Story placed: 4/20/2018