Jordan Dollard
Capstone Practicum 2018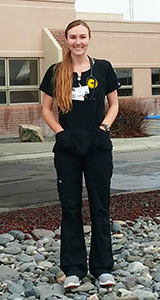 My capstone experience...
...was at Powell Valley Healthcare (PVHC), where I felt so fortunate to have been placed.
Doubts turning into confidence
I had my doubts about the experience I would gain as well as doubts about myself as a nurse when first placed at this very small and rural hospital. But I couldn't have been more wrong in either of those aspects. During my time at PVHC I have had the opportunity to work on the medical/surgical floor, OB, ICU, and ER. My shifts consisted of anything from admissions, assessments, patient education, assisting laboring moms, delivering newborns, assisting in codes, discharging, and much more.
Small size and ruralness a plus
Due to its small size and ruralness, the nurses in this hospital obtain extensive knowledge in all areas, which made my experience so wonderful. In being able to participate in such a wide variety of situations, the doubts I had coming into my Capstone about my abilities have been put to rest and my confidence has grown. At the end of my experience with PVHC I have seen so many different cases, experienced such a variety in nursing, and have been able to treat patients of all different kinds. I don't think I would have had the same experience elsewhere. It has truly helped me grow as a nurse.  
Overall...
This Capstone experience has prepared me to become a nurse in so many ways. It has solidified not only my desire to work in a rural hospital, but also my dream to become a labor and delivery nurse. This semester has taken my past two years of schooling and applied it to real life scenarios, and overall has given me the confidence I needed to become the best new graduate nurse I can be. After this experience, I am even more excited for what my nursing future has in store for me.
---
Story placed: 4/20/2018