Kayla Sherrodd
Student Profile

Here is another University of Wyoming Nursing student who amazes us in her love for learning, for traveling, for volunteering. And most of all, her love for doing all that at the same time!
Meet Kayla Sherrodd, senior nursing student!
----------
I have always enjoyed traveling, and love being able to connect this passion with volunteer work. I was lucky enough to be able to do just that in Poland and Bolivia through UW's alternative spring breaks in the "SLCE program" [SLCE: Center for Student Leadership & Community Engagement]. I later got a job at the Laramie Regional Airport and always found myself taking trips and exploring new places. I enjoyed the freedom of hopping on a plane not knowing what to expect next. My volunteer work abroad was definitely the most rewarding of my trips.
GERMANY
Traveling to Germany was a trip of remembering the past through volunteer work. Before the trip, all I ever knew about the holocaust was from a second edition, beat-up history textbook in 10th grade history class along with the stories my grandfather would tell me. Growing up, grandfather described closing blinds to avoid German bombers in the dead of night and seeing his father leave Stockholm as part of the restoration of Germany. The memory of hearing about these experiences stuck with me all the way up to my college years and pushed me to take a step beyond my comfort zone: I would travel to Germany and Poland as a volunteer in order to fully understand what my great-grandfather was fighting for. In Poland, I was able to participate in historic preservation within Auschwitz. Keeping history recorded through conservation and storytelling was the main focus of this project.
BOLIVIA
The main focus of my trip to Bolivia was rooted in community and kindness. I encountered an unanticipated tight bond of serving, benevolence and dedication as I left my comfort zone crossing the United States borders. From the experience of spending long days under the sun building a preschool, to laughing over the misguidance of a "How to Survive Bolivia 101" handbook*, the community that was built from the experience significantly impacted me for the better. [*The Bolivia handbook included a song which came with the claim that every Bolivian knew it, but when any Bolivian was asked about it, none had never heard the song!]

The bulk of the volunteer work in Bolivia revolved around constructing a preschool in Vinto. Even though my bricklaying skills were far from perfect (yes, I neglected to level my bricks more than once, and I could not master the art of bending rebar), the community was still grateful. I found myself almost in tears as members of the community expressed how important our help meant to them. This was one of the biggest gifts that the Bolivian trip provided: The knowledge that I can make a change, and that I am part of something larger than myself. While building the preschool, a little girl would run up to me throughout the day to show me her painted fingernails and her cute puppy named Bobby. Just seeing the people who would be using this school is something I hold close to my heart. I know one day that little girl will be able to get an education because of our small act of kindness.
BUILDING A BUSINESS
Starting in high school, my mother shared the experience of building a business from the ground up with my sister and me. We were able to develop "Pop Up Paint Party" and learn essential components of running a business along with making an impact in our community. I remember starting the business out of a trailer and traveling to different locations throughout town. Now the business has grown into having its very own location downtown.

I learned the importance of hustling and what hard work can lead to. With the business endeavors, we were able to construct parties where profits would go to organizations such as Black Dog Animal Rescue, Project Healing Waters, Cathedral Home for Children, Ivinson Memorial Hospital Cancer Care Center, and Laramie Veterans of Foreign Wars. One of the most influential parties was holding a fundraiser for one of the victims of the fires at Wade's Mobile Manor. This individual lost everything. It was so inspiring to be able to aid in such a time of hardship.
WORKING... and more VOLUNTEERING
I have worked as a CNA for over three years at the Laramie Care Center. While working there, I was able to volunteer with Life Style 360. Through that program, I participated in activities with the residents—such as bingo, bowling, and nail painting. I absolutely love this volunteer work, and have been able to make long lasting connections with the residents through simple acts of kindness.
SENIOR CAPSTONE CLINICAL
I am placed in Buffalo, Wyoming this semester for my senior capstone clinical experience. It has been great! I'm getting a lot of experience in multiple areas because it's such a small hospital. My preceptor is amazing and constantly challenges me.

After graduation, I hope to find a position in labor and delivery somewhere, but I'm honestly excited to start my career and will be happy with ANY position, just so I can get experience! ♦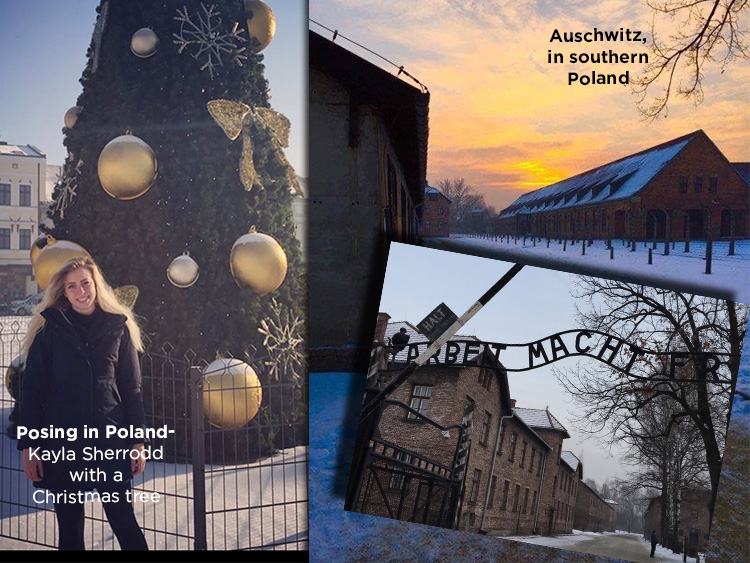 ---
Story placed: 3/17/2020