Kathryn Haugen
Student Profile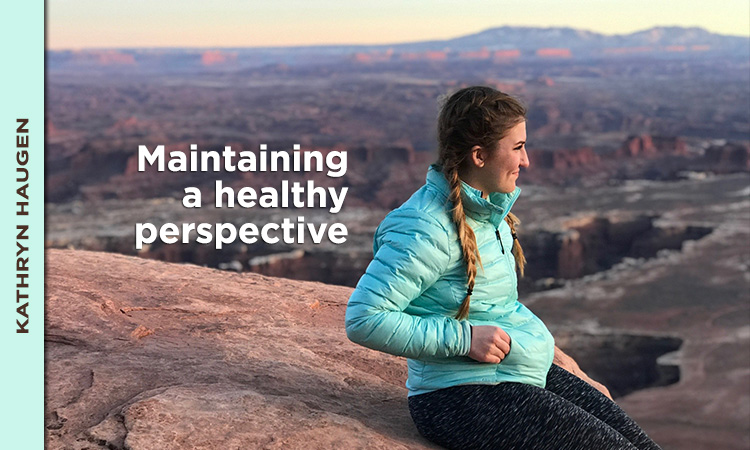 Senior nursing student Kathryn Haugen:
Positive and Enthusiastic... even in a Pandemic
Nursing undergraduate programs director Kimberly Raska-Miller has been impressed with senior student Kathryn Haugen for being positive and enthusiastic through a difficult pandemic year. How has Haugen managed such an attitude? Below Kathryn is honest with us about having been honest with herself as to what was necessary to navigate a difficult year: 
I would typically describe myself as positive and extremely enthusiastic, but I would never want to pretend that I feel that way 100% of the time. Truthfully, I have not been positive or enthusiastic for the entire pandemic. There have been days where I was angry, sad, and mostly scared. I have been fortunate enough to have an incredible support system to rely on. I have been able to pursue an internship that has helped me grow not only as a nursing student but also as a person. I go to therapy because I believe that I am the best version of myself when I am taking care of my mental health. I have a regular workout routine where I can completely decompress for at least an hour. I have found that doing things that bring me joy are enough reason to indulge in them as often as possible. Most importantly I am learning every day to have more grace with others and myself.
Choosing Nursing for a career: Looking back 
I have known from a young age that I wanted to have a career where I can help others. I was not always sure what that would look like, but the defining moment for me was my senior year of high school, when I took a course titled "Medical Career Explorations". I had great interest in the countless opportunities available to nurses. Since then, the nursing program at UW has only fed that interest into an undying passion. 
This semester and after graduation: Looking ahead
This spring semester of 2021 I will be working nights in the ICU at a Wyoming hospital. I am very interested in learning more about the "ins and outs" of ventilation. I have had the incredible opportunity for the past nine months to have an internship at this same facility, where I have been able to work in various departments, including med/surg, ER, OR, and endoscopy. I have truly found a passion for the variety, autonomy, and ability to make a difference in people's lives. After graduation I would like to work in an emergency department.
What might make your nursing career unique?
I do not believe I am uniquely gifted in a specific area for nursing, but throughout the years I have remained passionately curious. I am constantly enamored by nursing and all the ways it can take you. Often, when people ask where I see myself in my nursing career, I state:

"I change my mind every three months,
simply because I fall head over heels
for a new path in nursing!"

I am truly excited for where nursing can take me.
---
Story placed: 2/10/2021