Marcia Dale Aspire Scholars Program
- To Develop Leaders in Nursing
Purpose: To develop leaders in nursing to advance the profession
********************
Overview  
In collaboration with the University of Wyoming College of Health Sciences (CHS) "Aspire" program, the Fay W. Whitney School of Nursing (FWWSON) has developed the Nursing "Aspire" program - named the Marcia Dale Aspire Scholars Program - to encourage, promote, and nurture scholarship, leadership, and professionalism in future nurses. The program shall consist of a small cohort of undergraduate nursing students.
The Marcia Dale Aspire Scholars Program starts in the second semester of the student's freshman year and continues throughout the four years of the undergraduate program. Admission to the Marcia Dale Aspire Scholars Program is competitive. Students in this program are held to the UW Code of Conduct (found on the UW General Counsel's web page at www.uwyo.edu/generalcounsel/) and to the FWWSON Code of Conduct (see Student Handbook). There are rigorous criteria for admission to this program including NGPA, professional interviews, and essays.
Students participate in activities such as: interprofessional activities; Legislative Days; Discovery Days; Service, Leadership, and Community Engagement Office (SLCE) - Alternative Break Program; health fairs; and the FWWSON Open House. Students serve as ambassadors for the FWWSON. Students may have the opportunity to participate in scholarly projects. Please be aware, activities can occur at variable times (e.g., daytime, evenings, and weekends) and potentially on short notice.
---
Benefits of Marcia Dale Aspire Scholars Program
Professional growth

Development of leadership, communication, and collaboration skills

Guaranteed admission to nursing major component (CNA certification required)
---
Admission Requirements
Ability to declare pre-nursing as an incoming freshman: students with a minimum math placement score of 3 or an ACT math score of 23 or an SAT math score of 600 (ability to enroll in college algebra) are eligible to declare nursing

Minimum Nursing GPA (NGPA) of 3.0 (calculated on prerequisite courses) after completing the first semester of the freshman year

A complete application packet
---
Admission Criteria
The following are the criteria used in the application review*:
Nursing GPA (NGPA)

Proctored Essays

Professional Interview
*Criteria for admission are subject to change.
---
Application Packet - due March 2, 2015

The following bulleted listing will provide links to necessary forms and information for spring 2015 Aspire admission consideration:
---
Keeping a Place in Marcia Dale Aspire Scholars Program
Maintain a 3.0 Nursing GPA (NGPA)

Maintain full-time enrollment at UW (12 credits per semester)

Maintain involvement in the program

Begin nursing major component within two years of UW matriculation

Follow UW and/or FWWSON Code of Conducts
---
Admission to Nursing Major Component
Students admitted to the spring 2015 Aspire program will need to meet the following requirements by Feb. 1, 2016:
Basic BSN Aspire Nursing Major Admission Form
Due by February 1 of year in which beginning nursing major component of the program (form to be distributed by FWWSON Basic BSN staff)
Active/Current CNA Certification (LPN Licensure can also satisfy this requirement)
To be completed and accessible for verification by the FWWSON by February 1 of year in which beginning nursing major component of the program
---
NCLEX Eligibility
Refer to 'NCLEX Eligibility' for this policy.
---
Physical Requirements
Refer to 'Physical Requirements' for this policy.
---
Last updated 02/11/2015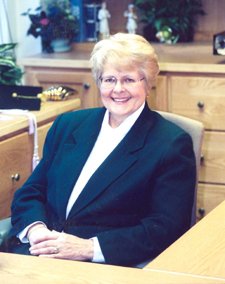 The late Dr. Marcia Dale (former dean of the School of Nursing) loved students, greatly enjoyed mentoring them, and was also undoubtedly the epitome of a leader. For these reasons and many more, the Aspire program has been renamed the "Marcia Dale Aspire Scholars" program in her honor. Please click on the link to read more about this exceptional woman.
Contact your State Board of Nursing. The link below will help you find the contact information for your State Board of Nursing.