Brianne Beale
SNA Officer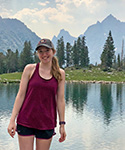 Brianne Beale...
holds the office of
Fundraising Chair
SNA Board, 2018-2019
----------
Where are you from?
Jackson, Wyoming
What is a fun fact about yourself?
I really enjoy being outdoors. I especially like finding new places to hike and go rock climbing!
What area of nursing are you interested in?
Currently, I am interested in travel nursing, critical care nursing, flight nursing and neonatal nursing. I am looking forward to exploring all areas of nursing through school.
How are you involved at UW/in the Laramie community?
Besides SNA, I am also very involved with the Wellness Ambassador RSO on campus. I am currently the lead for the alcohol and the other drugs subcommittee for the Wellness Ambassadors, where we help promote wellness events for students with alcohol screenings and Health Poke Patrol at football games. I am an Aspire ["Marcia Dale Aspire Scholar"] nursing student as well.
----------
Page uploaded 11/5/2018