Jenna Kindt
SNA Officer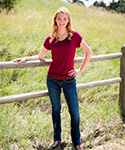 Jenna Kindt...
holds the office of
President
SNA Board, 2018-2019
----------
Where are you from?
Colorado Springs, Colorado
What is a fun fact about yourself?
One summer I helped to teach English to a class of 15 refugees. The refugees were from Burma, Iraq, Congo, and Cuba, between the ages of 21 and 50, and had only been in the United States for 1-2 weeks. It was a deeply insightful experience to learn about their lives and the extreme difficulties they had faced.
What area of nursing are you interested in?
Currently, I am interested in ER nursing, and long term I am considering pursing a career as a psychiatric mental health nurse practitioner.
How are you involved at UW/in the Laramie community?
In Laramie, I have been a home health care CNA for a year. I also volunteer at the Down Town Clinic. At UW, I am a research assistant for the Strategies for Risk Reduction Lab. I am also the student nursing representative for the UW College of Health Science Research Committee.
----------
Page uploaded 11/05/2018