Krista Schaff
SNA Officer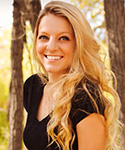 Krista Schaff...
holds the office of
Community Chair
SNA Board, 2018-2019
----------
Where are you from?
Aurora, Colorado
What is a fun fact about yourself?
I love to bake and cook!
What area of nursing are you interested in?
I am undecided yet! I am hoping to find an area that interests me more as I go through my clinical experience.
How are you involved at UW/in the Laramie community?
I have been involved in SNA since I was a freshman. My favorite volunteering event is visiting Spring Wind Assisted Living. I am a CNA at an ambulatory surgery center here in Laramie.
----------
Page uploaded 10/29/2018