Nicole Thiele
SNA Officer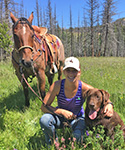 Nicole Thiele...
holds the office of
Treasurer
SNA Board, 2018-2019
----------
Where are you from?
Buffalo, Wyoming
What is a fun fact about yourself?
I love to spend time in the mountains with my family and paddle boarding with my chocolate lab. :)
What area of nursing are you interested in?
I'm interested in geriatrics and traveling nursing at the moment but I'm excited to try everything.
How are you involved at UW/in the Laramie community?
I have been involved with SNA since my sophomore year, and my favorite volunteer activity is saferide sidekick. I also volunteer at the ARK regional services at the equestrian center helping with horse therapy, and I love every second I get to spend there.
----------
Page uploaded 11/5/2018