Phi Beta Kappa, UW Chapter
Contact Chapter President, Frieda Knobloch
Email:
knobloch@uwyo.edu
2013 - 2014 Phi Beta Kappa Officers                               

President:  Frieda Knobloch
Vice President: Erin Forbes
Secretary: Eric Nye
Treasurer: Betsy Bress

Member-at-Large of the Executive Committee: Mary Aguayo
We welcome PBK members who have recently moved to our area. To be added to our membership list, please contact the Chapter Secretary.
  Wyoming Alpha Chapter Bylaws, can be found here.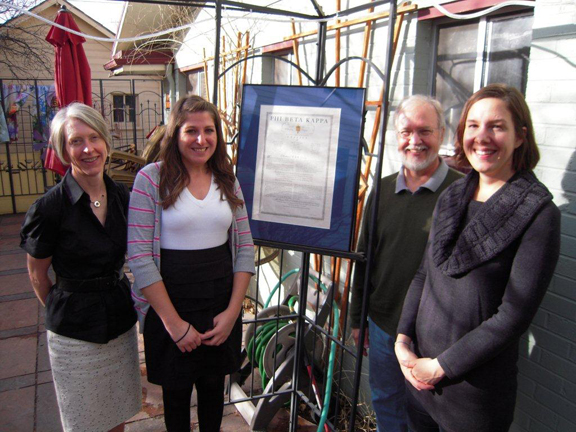 University of Wyoming PBK Officers meet with Cara Engel, Director of Chapter Relations for The Phi Beta Kappa Society, to celebrate the restoration of the University of Wyoming Charter.
(Left to Right: Carol Frost, Chapter President; Cara Engel; John Dorst, Chapter Secretary; Erin Forbes, Chapter Vice-President)
Share This Page: