School of Pharmacy
College of Health Sciences
Vascular Biology Protocols Published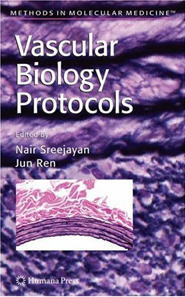 Vascular Biology Protocols, a 372-page book edited by Sreejayan Nair, Ph.D., and Jun Ren, M.D., Ph.D., was recently published by Humana Press as a part of the "Methods in Molecular Medicine" series, volume 139.
The book is written for biochemists, clinicians and molecular pharmacologists and will be a valuable resource in cardiovascular research.
Vascular Biology Protocols covers a wide spectrum of in vivo and in vitro techniques encompassing biochemical, pharmacological and molecular biology disciplines which are currently used to assess vascular disease progression.