School of Pharmacy
College of Health Sciences
Nutritional and Therapeutic Interventions for Diabetes and Metabolic Syndrome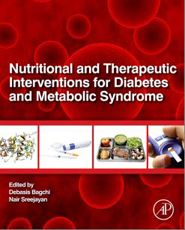 Nair Sreejayan, Ph.D., associate professor of pharmacology, together with Debasis Bagchi, Ph.D., adjunct professor of medicinal chemistry at the University of Houston College of Pharmacy in Houston, Texas, has edited a book titled Nutritional and Therapeutic Interventions for Diabetes and Metabolic Syndrome published by Elsevier, Academic Press in February 2012 (ISBN: 978-0-12-385083-6).
The book is aimed at providing a comprehensive approach to understanding diabetes, its complications, molecular mechanisms and the various strategies for prevention and treatment. The wide range of topics covered in the 30 chapters of the 500-page book are written by leading experts in the field and will be of interest to patient caregivers, basic research scientists, graduate students, and anyone interested in knowing more about diabetes.
This is the second book edited by Dr. Sreejayan, who previously co-edited Vascular Biology Protocols (Methods in Vascular Biology) for the "Vascular Biology Series" with Dr. Jun Ren, which was published by Humana Press.