School of Pharmacy
College of Health Sciences
Baskaran Thyagarajan is Invited Speaker at Symposiums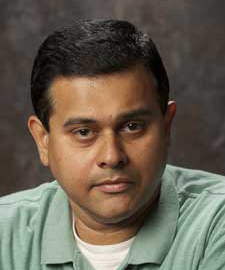 Baskaran Thyagarajan, M.Pharm., Ph.D., presented an invited talk on "Capsaicin: A Novel Antidote against Botulinum Neurotoxin A" during the 17th World Congress of the International Society on Toxinology & Venom Week 2012, 4th International Scientific Symposium on All Things Venomous held at the Hilton Hawaii Village, O'ahu, Hawaii, July 8–13, 2012. About 350 people registered for the congress, with 344 abstracts accepted.
Thyagarajan's presentation demonstrated the potential of capsaicin to be developed as a novel agent to prevent and to treat BoNT/A intoxication. This discovery significantly advances the current knowledge of BoNT/A antagonists and forms the basis of a novel therapeutic approach. Further research to understand the mechanisms of action of capsaicin is in progress in Dr. Thyagarajan's lab.
Dr. Thyagarajan was also an invited speaker at the 6th Annual Dartmouth Botulinum Research Symposium at the Botulinum Research Center at the University of Massachusetts-Dartmouth, Massachusetts, August 16–17, 2012. This symposium provided a unique platform to get researchers from academia, industry, government labs, and policy makers together in a more informal setting for fostering relevant discussions and collaborations.
Thyagarajan presented his talk on Botulinum Neuro Toxin, Tool & Therapy: "Take A Shot To Shoot A Frown." His talk focused on 1) therapeutic effects of botulinum neurotoxin against pain and 2) characterization of a Deactivated Recombinant Botulinum Neurotoxin A (DRBoNT/A; Non toxic BoNT/A) at the mouse neuromuscular junction. The use of DRBONT/A as a "neuro tool" to explore neuronal exo-endocytic mechanisms was discussed.