School of Pharmacy
College of Health Sciences
UW School of Pharmacy Welcomes Class of 2016
September 11, 2012 — The University of Wyoming School of Pharmacy welcomed members of the class of 2016 into its professional pharmacy program in August.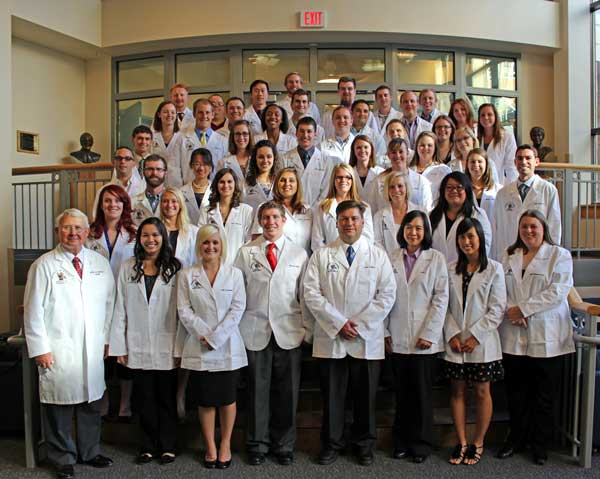 First-year professional students attended two days of orientation, followed by the "white coat ceremony" where they were congratulated by Dean John Vandel with family and friends in attendance.
"The white coat presented to the students is symbolic of the students' professionalism and commitment to their future patients and colleagues," Vandel says. "It stands for honor, integrity, duty, accountability, respect for others, excellence and altruism. The future of this profession lies in change. These students are the ones who will form the future of pharmacy, to envision the future, to anticipate what lies ahead, and to adapt new technologies. The white coat is only a trapping. There is no magic that comes with it. The white coat identifies the students as someone trained and educated to pursue a career of helping others."
Admission to the professional program is limited and highly competitive. UW's nationally accredited pharmacy curriculum begins with a two-year pre-professional program followed by the four-year professional program of three years of coursework on campus and a full year of experiential coursework performed off campus.
"School of Pharmacy professors are experienced in teaching, dedicated to their field and have been continuously recognized nationally and internationally for their research achievements and contributions to the scientific and clinical fields," Vandel says.
A UW Doctor of Pharmacy (Pharm.D.) degree meets the educational requirements to take pharmacy state board examinations in all 50 states and the District of Columbia. Graduates have consistently scored higher than the national average on national licensure examinations.
Members of the class of 2016, listed by their hometown, are:
Alpine, Utah -- David Weipert.
Anaheim, Calif. -- Tsay Lia Yang.
Auburn -- Pace Owens.
Bayard, Neb. -- Rachel Nerud.
Broomfield, Colo. -- Chaundra Sewell.
Casper -- James Britton.
Chandler, Ariz. -- Dane Pebler.
Cheyenne -- Ashley Clark, Amanda Connerley, Lauren Pulley, and Cody Weidenhaft.
Chicago, Ill. -- Arand Caldwell.
Colorado Springs, Colo. -- Beryen Lai, Hong Luong, and Michael Mullin.
Craig, Colo. -- Erin Urbanoski.
Denver, Colo. -- Christy Mortimer.
Douglas -- Meghan Kolf.
Fort Collins, Colo. -- Gail Whitecotton.
Gillette -- Christina Rozier and Taylor Sandvick.
Greeley, Colo. -- Michela Altergott.
Green River -- Justin Rollins.
Hatch, Utah -- Karsten Josie.
Highlands Ranch, Colo. -- Jessica Potthoff.
Ho Chi Minh City, Vietnam -- Quyen Bui.
Jackson -- Nathan Holcomb.
Kapolei, Hawaii -- Muriah Kayser.
Kimball, Neb. -- Heather Dickson.
Laramie -- Alan Brown, Songlin Cai, Marinell Clinton, Brian Hughes, and Brian Martisius.
Merino, Colo. -- Jonathan Tramp.
Miami, Fla. -- Yoel Cordero Alvarez.
Monument, Colo. -- Abigail Ward.
Riverton -- Joshua Green.
Rock Springs -- Luke Aust, Amy Hughes, and Misty O'Lexey.
San Anselmo, Calif. -- Ashley Francis.
Sarasota, Fla. -- Dennis Ruffalo.
Searcy, Ariz. -- Matthew Robison.
Sheridan -- Presley Legerski.
Wheatland -- Jeremy Henion.
photo:
The University of Wyoming School of Pharmacy welcomed members of the class of 2016 into the professional pharmacy program in August during the "white coat ceremony" where they were congratulated by Dean John Vandel with family and friends in attendance. First-year professional students are pictured with Dean Vandel following the ceremony. (photo by Jeff Gilmore Photography)