School of Pharmacy
College of Health Sciences
Jennifer Steiner Named Paul Ambrose Scholar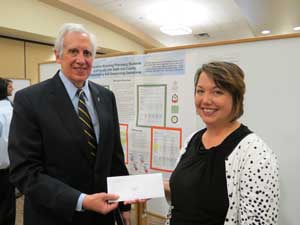 Jennifer Steiner (class of 2014), from Billings, Montana, was accepted into the 2012 Paul Ambrose Scholars Program of the Association for Prevention Teaching and Research and the Office of Disease Prevention and Health Promotion. This highly competitive national award is given to graduate and professional students in Allopathic Medicine, Dentistry, Graduate Nursing, Physician Assistant, Osteopathic Medicine, Pharmacy, and Physical Therapy (D.P.T.). Steiner was one of 46 scholars chosen, of which 9 were Pharm.D. students.
The program exposes health professions students to influential public health professionals and prepares them to be leaders in addressing population health challenges at the national and community level. The Scholars Program includes funding for Scholars to attend the 4-day leadership symposium in Washington, DC, during the summer of 2012. Based on her work at the symposium, Steiner is working with Beth Young (Albany County Public Health) and a UW School of Pharmacy faculty mentor on her Ambrose Scholars project focused on assisting residents with limited mobility and the elderly in disaster preparedness in Wyoming. This is an extension of a project on which she presented a poster in Anaheim, California, at the national Public Health Preparedness Summit in February 2012. Steiner is the first Ambrose Scholar from the University of Wyoming.
photo:
Pharmacy student Jennifer Steiner was named a 2012 Paul Ambrose Scholar. She is pictured receiving the student travel award from Dean Steiner during the CHS Grand Rounds Research Day.