School of Pharmacy
College of Health Sciences
Medication Disposal Day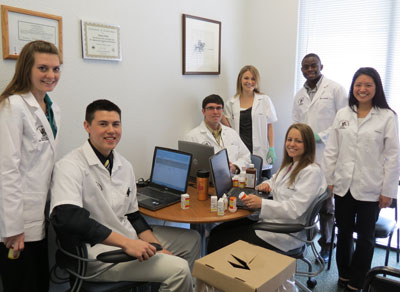 The UW student chapter of the National Community Pharmacists Association participated in the National Prescription Drug Take-Back Day on April 28th at Express Pharmacy in Laramie, Wyoming. Students attending were D. Quincy Shaw, Pam Darrow, Melissa Mehle, Shannon Thomas, Lauren O'Dell, Forrest Floyd, Lisa Ohnstad, Jesse Reilly, Tracey Le, Andrew Ssekajja, Jason Cory, and their faculty mentor, UW Drug Information Center Director, Melissa Hunter, Pharm.D.
Approximately 500 prescription and over-the-counter products were brought to the event. Students marked out patient information on prescription vials and logged each medication into a database including the medication name, expiration date, and quantity.
The chapter hopes to continue participating in medication disposal events in the community and plans to work with local pharmacies on National Take Back Days, in addition to local community events, such as the College of Health Sciences Annual Health Fairs. From the amount of medications that were collected, there is an evident need for these events. Keeping these unused medications out of homes and the landfills protects the environment and prevents drug diversion. This event was an educational experience for the students involved.

photo:
Pharmacy student members of NCPA are pictured during the Medication Disposal Day: (L to R) Shannon Thomas, D. Quincy Shaw, Forrest Floyd, Melissa Mehle, Lauren O'Dell, Andrew Ssekajja, and Tracey Le.