School of Pharmacy
College of Health Sciences
Kenneth Witzeling Named 2012 Outstanding Alumnus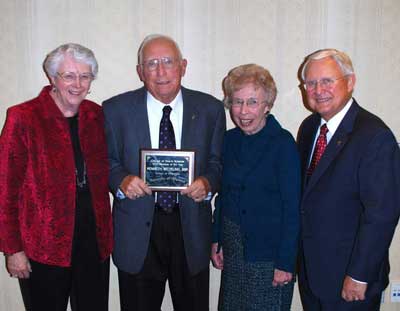 Kenneth F. Witzeling (B.S.P. '51) from Powell, Wyoming, was honored Friday, Oct. 12, as the 2012 UW School of Pharmacy (SOP) Outstanding Alumnus during the College of Health Sciences Outstanding Alumni Reception.
Witzeling is the president of the Powell Mercantile Board of Directors and a member of the SOP Advisory Committee. He is past president of the Wyoming Pharmacy Association and the Wyoming State Board of Pharmacy and former member of the Campus Advisory Board and the Pharmacy Development Committee. As a student at UW, Witzeling was a member of Phi Delta Chi-Alpha Nu Chapter (Pharmacy Honorary), Lambda Chi Alpha, and Gamma Sigma Epsilon (Chemistry Honorary). He and his spouse, Elizabeth (Betty), have two children: David (B.S. Zoo Phys '79, B.S .Microbiology '80) and Todd (B.S.P. '80).
"The selection of Ken Witzeling by the faculty to be the 2012 Outstanding Alumnus was an outstanding choice. I have known Ken for many years during his years of service for the Wyoming Pharmacy Association, serving as president, and during his service to the state on the Wyoming State Board of Pharmacy for 12 years, where he served as president for two terms," says Dean John Vandel.
"Ken has not only served pharmacy, but he has also served his community by being a caring pharmacist and owner of Skyline Drug in Powell, Wyoming, and he has also been a community supporter in many ways. In Powell, he served as a leader in forming a community corporation, which founded a community clothing store owned by the citizens of Powell who own stock in the corporation. Ken and Betty's son, Todd, followed Ken's career path for a while by graduating from the UW SOP but then went on to study medicine. He is currently a medical doctor and practices in Casper."
photo:
Kenneth F. Witzeling (B.S.P. '51), from Powell, Wyoming, was honored as the 2012 UW School of Pharmacy Outstanding Alumnus on October 12th. (L to R) Joyce Vandel, Witzeling, his wife Betty, and Dean John Vandel.
(photo courtesy of Nancy Witzeling)