School of Pharmacy
College of Health Sciences
Dean Winsch Recognized as the Wyoming Pharmacist of the Year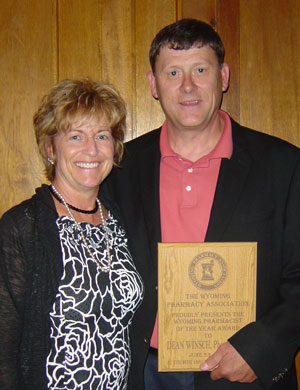 During the Wyoming Pharmacy Association (WPhA) and the Wyoming Society of Health-System Pharmacists (WSHP) Annual Convention in Sheridan June 21-24, Dean Winsch, Pharm.D., R.Ph., was recognized as the Wyoming Pharmacist of the Year. 
Winsch is a native of Berwyn, Illinois, who came to Wyoming to attend the University of Wyoming and to ski. After earning his first degree, he joined the navy and was stationed in Washington. He later returned to the University of Wyoming and graduated with a Bachelors of Science in Pharmacy in 1980. He later received a Doctorate of Pharmacy from Creighton University.
Winsch started at Memorial Hospital of Laramie County in 1979 as a pharmacy intern and has practiced continuously there for 33 years, as it became United Medical Center and then Cheyenne Regional Medical Center. He was director of pharmacy for five years during which time he lead the planning and move to a new physical pharmacy location, moved sterile compounding from the nursing units to the pharmacy, and developed the first unit dose distribution system in Cheyenne.
He then chose to be a staff pharmacist for several years while he completed his PharmD. He served as the Pharmacy Clinical Supervisor for many years and has participated in most of the hospital wide committees and medication safety projects over the years.
Winsch opened an outpatient Anticoagulation Management Service on August 15, 2002 in collaborative practice with Andrea Thornton, MD. The service will soon celebrate ten years of helping patients in Wyoming. Several pharmacists have become certified and worked in this outpatient setting and many students and three pharmacy residents have participated. Today there are three pharmacists and six physicians in collaborative practice serving around 650 patients.
Winsch is a past president of the Wyoming Society of Health System Pharmacy, the Wyoming Pharmacy Association and the Laramie County Pharmaceutical Association. He has served on the board of WPhA several times. Winsch has presented continuing education topics, represented WPhA at legislative committees, and attends many of the board of pharmacy meetings. He is also the longest serving appointed member of the Collaborative Practice Committee.
Dean and his wife Debbie have a son, David, who is a teacher. Dean is a woodworker and enjoys travelling. He continues to ski and do early morning lap swimming. Dean has routinely donated blood for years, now measured in gallons.
Dean Winsch is a well-respected pharmacist, leader, mentor, teacher, and practitioner. The Wyoming Pharmacist Association is proud to have him as the Pharmacist of the Year.
photo:
Dean Winsch is congratulated by Jennifer Nevins for being recognized as the Wyoming Pharmacist of the Year during the Wyoming Pharmacy Association (WPhA) and the Wyoming Society of Health-System Pharmacists (WSHP) Annual Convention in Sheridan in June. (photo courtesy of WPhA)