School of Pharmacy
College of Health Sciences
Jill Van Cleave Named Distinguished Young Pharmacist of the Year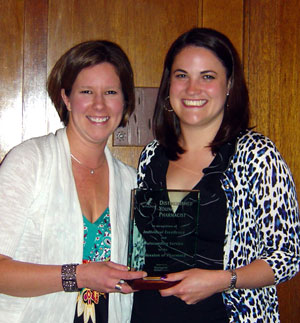 During the Wyoming Pharmacy Association (WPhA) and the Wyoming Society of Health-System Pharmacists (WSHP) Annual Convention in Sheridan June 21-24, Jill Van Cleave, Pharm.D., R.Ph., was recognized as the Distinguished Young Pharmacist of the Year by Pharmacist Mutual representatives Kim Dornbier and Mike Warren. 
The Distinguished Young Pharmacist award was created in 1987 to encourage newer pharmacists to become involved in association activities and civic projects, and to recognize one such pharmacist in each state for individual excellence and outstanding contributions.  The prestigious award is present by Pharmacists Mutual Companies, nationally recognized as a leader in providing insurance and financial services to Pharmacy.
The 2012 Wyoming Pharmacy Association recipient was selected by a committee of her peers who considered Dr. Van Cleave as the one who has best met and exceeded the criteria required. 
Achievements of this year's recipient include:
•    Member of APhA.
•    Pharmacist in Charge at Osco Pharmacy in Laramie
•    Volunteer Pharmacist at Laramie's Free Downtown Clinic
•    Licensed Preceptor in State of Wyoming & hosts multiple students throughout the year
•    Immunizing Pharmacist in State of Wyoming and offers multiple Flu Clinics in community settings during the fall.
Van Cleave currently works as a Pharmacist in Charge at Osco in Laramie. She embodies all the qualities one looks for when evaluating individuals for this award.
photo:
Jill Van Cleave (R) is congratulated by Kayla Newland for being named the Distinguished Young Pharmacist of the Year during the Wyoming Pharmacy Association (WPhA) and the Wyoming Society of Health-System Pharmacists (WSHP) Annual Convention in Sheridan in June. (photo courtesy of WPhA)