School of Pharmacy
College of Health Sciences
Dean John Vandel Recognized by WPhA and WSHP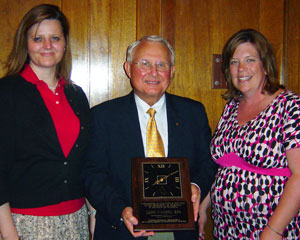 During the Wyoming Pharmacy Association (WPhA) and the Wyoming Society of Health-System Pharmacists (WSHP) Annual Convention in Sheridan June 21–24, WPhA and WSHP recognized Dean John Vandel, R.Ph., for his dedication and service to the profession of pharmacy.
Dean Vandel has been an exemplary member of the pharmacist community for over 50 years. His memberships, activities, and professional speaking engagements are numerous and varied. He has been a pharmacist, a business owner and most recently the Dean of the School of Pharmacy for the University of Wyoming. Dean Vandel is no stranger to recognition and has received many other awards in pharmacy including; A. H. Robbins Bowl of Hygeia in 1982, National Association of Boards of Pharmacy Distinguished Service Award in 1992, Wyoming Pharmacists Association Pharmacist of the Year in 1993, American Pharmacists Association Daniel B. Smith Distinguished Pharmacy Practitioner Award in 1995, and American College of Apothecaries Dean of the Year for 2007-08.
Dean Vandel will be greatly missed at the University of Wyoming. His colleagues appreciate his commitment to the promotion of the profession of pharmacy. At this time, WPhA and WSHP would like to thank the Dean and wish him well in retirement and future pursuits.
photo:
Kirsi Ludwig (L) and Jaime Hornecker (R) congratulate Dean John Vandel for being recognized by WPhA and WSHP during the annual convention in June for his dedication and service to the profession of pharmacy. (photo courtesy of WPhA)