School of Pharmacy
College of Health Sciences
Kirsi Ludwig Receives Wyoming Health-System Pharmacist of the Year Award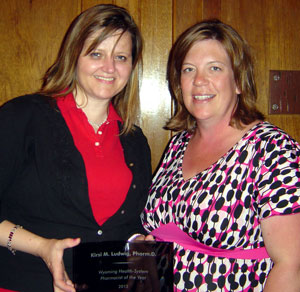 During the Wyoming Pharmacy Association (WPhA) and the Wyoming Society of Health-System Pharmacists (WSHP) Annual Convention in Sheridan June 21–24, Kirsi Ludwig, Pharm.D. was honored with the Wyoming Health-System Pharmacist of the Year and The Mckesson Leadership Award.
Kirsi is Pharmacy Manger at Sheridan Memorial Hospital and current president of WPhA.
She is originally from Finland and participated in a foreign exchange program that introduced her to her husband Rusty. After meeting Rusty, Kirsi decided that Wyoming would be her new home. She graduated in 2000 from the University of Wyoming as the first class to receive PharmD degrees from the University of Wyoming School of Pharmacy. Kirsi has been an active member of WPhA, championing causes such as the revision of the Technician chapter in the Pharmacy Practice Act to ensure all technicians are recognized for the work they do.  She has also served as a delegate to ASHP for the past two years. Kirsi has been very passionate about pharmacy ensuring her pharmacy has been 100% USP 797 compliant since 2010. She has also championed the use of smart pump technology with plans to implement complete infusion management in February 2013, a full integration of Hospira pumps and Cerner EMAR/CPOE technology. Sheridan Memorial will be one of the few hospitals in the nation with this capability.
Kirsi sets a superb example of how pharmacist can change patient care with dedication, drive, and leadership. WPhA and WSHP are glad to have such a devoted individual among their ranks
photo:
Kirsi Ludwig (L) is congratulated by Jaime Hornecker for being named the Wyoming Health-System Pharmacist of the Year during the Wyoming Pharmacy Association (WPhA) and the Wyoming Society of Health-System Pharmacists (WSHP) Annual Convention in Sheridan in June. (photo courtesy of WPhA)