School of Pharmacy
College of Health Sciences
Tonja Woods Receives 2012 Bowl of Hygeia Award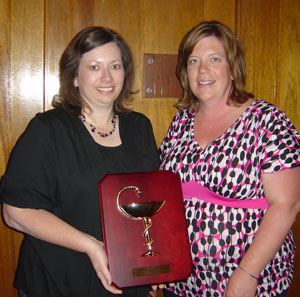 During the Wyoming Pharmacy Association (WPhA) and the Wyoming Society of Health-System Pharmacists (WSHP) Annual Convention in Sheridan June 21-24, Tonja Woods, Pharm.D.,R.Ph., was recognized as the Bowl of Hygeia Recipient for Wyoming.
The "Bowl of Hygeia" is the most widely recognized international symbol of pharmacy and derives from Greek mythology.  Hygeia was the daughter and assistant of Es-Kah-Lay-Pi-Ous, the God of Medicine and Healing.  Her classical symbol was a bowl containing a medicinal potion, with the serpent of wisdom (or guardianship) partaking of it.  This is the same serpent of wisdom that appears on the caduceus, which is the symbol of medicine.
The "Bowl of Hygeia" Award is presented annually by participating pharmacy associations in each of the fifty states, the District of Columbia, Puerto Rico, and the ten Canadian provinces.  The recipients are selected by their respective associations for their outstanding record of community service. The American Pharmacists Association Foundation and the National Alliance of State Pharmacy Associations sponsor the Bowl of Hygeia award.
In 1961 Ray D. Dame, Sr. from Casper, Wyoming, was the first pharmacist honored by WPhA with one of pharmacy's most prestigious awards.
Through grants received, Dr. Woods has spent summers traveling around the state of Wyoming conducting workshops to teach geriatric patients about Diabetes, Medicare Part D and cardiovascular disease. She has gone to approximately 20 towns and educated between 300 and 400 people. Her commitment to geriatric education is evident by the involvement with the Wyoming Geriatric Center and serving on the steering committee for its development. Wyoming Geriatric Center's mission is to establish a solid foundation for quality geriatric education programs by training of health professionals, faculty, students and clinicians to meet the health care needs of older adults in Wyoming's rural areas.
Since 2007, Dr. Woods has served numerous roles including Associate Director, Pharmacy Coordinator, clinical site training committee and didactic curriculum education group.
photo:
Tonja Woods (L) is congratulated by Jaime Hornecker for receiving the Bowl of Hygeia Award for Wyoming during the Wyoming Pharmacy Association (WPhA) and the Wyoming Society of Health-System Pharmacists (WSHP) Annual Convention in Sheridan in June. (photo courtesy of WPhA)