Michelle Hamilton
Preceptor of the Year 2018-2019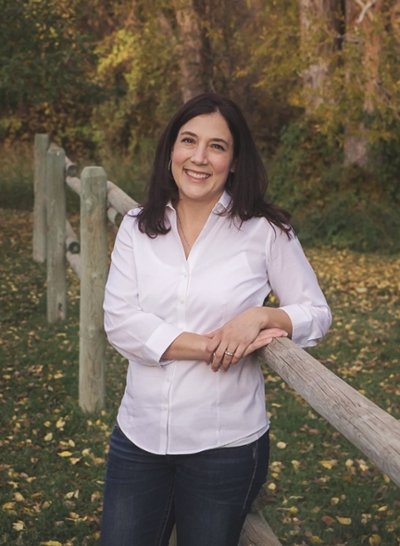 The University of Wyoming  School of Pharmacy awarded two Preceptors of the Year for the 2018-19 academic year. Pharmacist Michelle Hamilton, who precepts students at Washakie Medical Center in Worland, WY was one of the award recipients. We interviewed Michelle to find out what she does to earn the respect and admiration of her students so that other preceptors can learn from her. Below is her background experience, as well as her tips and ideas on ways to educate and motivate students.
Michelle graduated from the University of Wyoming in 2005. She went to work as a clinical pharmacist at Billings Clinic in Billings, MT where she worked in many different areas including the ICU, ATU, Coumadin Clinic, retail pharmacy and as a staff pharmacist. In 2007 Michelle moved to Worland, WY and started her career at Washakie Medical Center.
Since 2008, Michelle has embraced the role of a preceptor. She really enjoys the excitement students bring to the site, and their questions help push her to do her best. Michelle feels transparency with the students is a very important component of being a preceptor. She lets students know about the challenges and joys of her job, as well as lets them shadow almost all of her conversations so that they can see what she truly does in her role as pharmacist. In addition, being a UW graduate allows her to relate her experience as a student so each student knows she has been in their position which in turn helps form a connection between student and preceptor.
One of Michelle's strengths as a preceptor lies in her desire to get to know each student and what interests and passions they possess. During the first week of each rotation, Michelle assists each student in setting their goals for the rotation and sets clear expectations for them to help them succeed in meeting their goals. Then during the last week of each rotation, she allows the student to focus on an activity or area of interest that they really like. She also challenges each student to help them grow, all while not making it too hard on the student. She tries to anticipate how each student will work with each provider at the site and assigns students to work with providers accordingly.
A common theme throughout Michelle's rotations is that of building relationships. On the first day of each rotation, Michelle introduces the student to the staff in the hospital. This allows students to know who their resources are, and it helps staff to get to know the student. Michelle also makes sure that clear plans for the student and other pharmacists on staff are set should she be away from the site. This helps to foster good communication and establishes a less stressful environment for both student and pharmacist.
Michelle loves what she does and she has a passion for her profession. She continually works on developing her leadership skills, as well as establishing positive and strong personal interactions. She also utilizes trainings provided by Banner Health and does reading to develop her professional and preceptor skills. This definitely comes across to her students. A student who nominated Michelle for Preceptor of the Year stated they had never met someone who cares so much for her patients and her job. The student went on to comment that they learned more than they could have ever imagined, as Michelle challenged them to be their best and pushed them to new heights. Michelle showed them how a pharmacist should practice, and they, in turn, felt very lucky to have her as a preceptor.
Well done, Michelle!
Return to Past Preceptors of the Year Page