Richard Johnson
Preceptor of the Year 2017-2018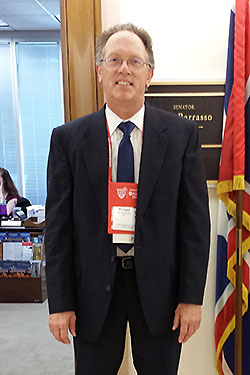 The University of Wyoming School of Pharmacy awarded two Preceptors of the Year for the 2017-18 academic year. Pharmacist, Richard Johnson, who precepts students at Compounding Specialists of Wyoming in Casper, WY was one of the award recipients. Richard was interviewed to find out what he does to earn the respect and admiration of his students so that other preceptors can learn from him. Below are his tips and ideas on ways to educate and motivate students.

Richard earned an Associate's degree from Laramie County Community College in 1980. He then went to the University of Wyoming where he received his Bachelor of Science degree in Pharmacy in 1982. After graduating he worked in a retail pharmacy for a year in Cheyenne, WY. He then moved to Casper where he worked for an independent retail pharmacy for 13 years before going to work at Wyoming Medical Center in their outpatient care pharmacy. After about a year and a half, the hospital downsized and no longer provided home health care. Richard then purchased a long-term care pharmacy with other partners and went into business for himself under the business name of Emissary Pharmacy and Infusion. The pharmacy was a long-term care pharmacy up until about four years ago when it became Compounding Specialists of Wyoming. At the beginning of 2018, the pharmacy was acquired by Omnicare.

Richard started precepting students around 2010. He likes being a preceptor as it allows him to gain further appreciation for the pharmacy profession. He also feels that he learns as much from the students as they do from him. Richard strives to build relationships with his students as a colleague rather than a mentor or preceptor. He encourages students to choose career paths that they will enjoy, and he tries to identify with each student's strengths and weaknesses so that he can help them continue to build on their strengths and work on their weaknesses. Richard realizes no two students are the same so he identifies how each student likes to learn and then builds from that.

Making his rotation challenging yet fun is an important goal for Richard. He feels students learn the most when challenged but in an environment that is enjoyable for them to be in. He tries to be flexible in what he wants his students to learn by identifying the student's needs and his own needs and then blending them. He utilizes student evaluations about his rotation, as well as continual feedback from students during the rotation to adjust his course design and syllabus. He seeks feedback about the business, coursework and the rotation as a whole to make changes to his rotation as needed.

Richard develops himself as a preceptor by improving himself as a pharmacist through education. He can then pass on this knowledge to his students. An aspect Richard likes about his rotation is that it's an elective, so the students have chosen it and want to be there. This allows him to really focus on the goals of each student and his own goals to achieve engagement by the students and make the rotation a great experience for both him and his students.

Words of advice Richard likes to share with his students is that they can go to Harvard or Yale, but if they don't put all of their efforts into the experience, all they have is a degree from a prestigious school. Students can go to a smaller school and if they put their effort into it they will have a great education that will serve them well in life.



Return to Past Preceptors of the Year Page