School of Pharmacy
College of Health Sciences
Welcome from the Dean
The University of Wyoming School of Pharmacy: Community, Quality, and Value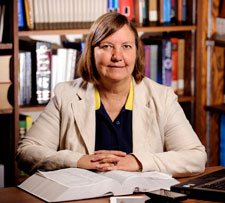 In my previous messages, I have reflected upon the natural change of seasons and how the School of Pharmacy undergoes a change of seasons similar to those we see around us. As my academic career comes to a close at the end of this semester, a new season will begin – both for me in my retirement and for the School with a new Dean. It is difficult to believe that I am finishing my third year and am now ready to hand the School to very capable hands in the administration, faculty and staff. The new Dean should be in place in the summer of 2016.
The School, thanks to all of those same capable people and our amazing students, is accredited by ACPE through July 1, 2021. The progress made during these three years has been amazing and I see the potential for this momentum to continue at an ever increasing rate. The goals for the School and our driving principles are based on the University's goals of Prepared Students, Academic Excellence, and Statewide Engagement. The School believes these are accomplished through an overall purpose to create, share, and apply knowledge to improve the health of our patients. We do this through community, quality, and value. The plans that are emerging are really stretching to the horizon, while still being achievable.
Our small, robust community facilitates the free exchange of knowledge within its circles. The community of faculty, students, staff, administrators, and researchers, with the help of our alumni and stakeholders, expands the reach of this knowledge through publications, presentations, and everyday practice. Expectations for members of the community are high. As a School, we are striving to meet and exceed the requirements of the new ACPE Accreditation Standards 2016. Because of this, the value to the individual, the School, and the Profession will be increased. Support for this is shown through the fact that in the last several years our students have performed above the National average on the licensing examinations. Our students and graduates are also highly regarded in the world of pharmacy practice. Our faculty present and publish in the most important venues.
The School welcomes you to continue your membership or to join our community as we move toward this exciting future. We are reaching for the opportunities of change.
Linda Gore Martin, Pharm.D., M.B.A., BCPS
Dean, University of Wyoming School of Pharmacy