College of Health Sciences Center Grand Opening 2006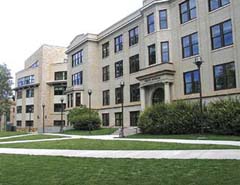 The newly upgraded $20 million Health Sciences Center, which opened its doors to students in fall 2006, united most College of Health Sciences departments and offices under one roof.

The College of Heath Sciences includes the School of Pharmacy; Fay W. Whitney School of Nursing; the divisions of kinesiology and health, communication disorders, disabilities studies, and social work; and medical education and public health programs. It also includes family practice residency programs in Cheyenne and Casper, the Wyoming Institute for Disabilities, and the Center for Rural Health Research and Education.