School of Pharmacy
Health Sciences Center, Room 292
1000 E. University Ave., Dept. 3375
Laramie, WY 82071
Phone: (307) 766-6120
Fax: (307) 766-2953
Email:
uwpharmacy@uwyo.edu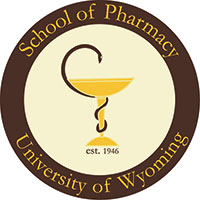 Where is the School located?
The School of Pharmacy is housed in the Health Sciences Center on the University of Wyoming campus in Laramie, Wyoming.
The Health Sciences Center includes faculty offices, classrooms, seminar-study rooms, a student activity area, a student computer-study-reading room, a pharmaceutical care learning center, and well-equipped research laboratories. These, along with modern computer and projection systems, add versatility to the teaching and research facilities.

The School of Pharmacy is one of eight principal units comprising the College of Health Sciences. In addition to pharmacy, divisions in health sciences include medical education and public health, Wyoming Institute for Disabilities (WIND), communication disorders, nursing, kinesiology and health, social work, and dental hygiene.
Information about UW and Laramie
The University of Wyoming has an enrollment of approximately 13,000 students representing 50 states and 90 foreign countries, providing a mix of cultural and geographic backgrounds. Seven academic colleges offer 180 different programs of study.

Pharmacy students have found enjoyment in UW's many extracurricular activities such as athletics, debates, fraternities and sororities, publications, music, literary, and religious organizations.
The campus is situated near the center of Laramie, a city of approximately 30,000 people. Laramie is in southeastern Wyoming, about 45 miles west of Cheyenne, the state capital.

Laramie lies at the eastern border of the historic Laramie Plains that are encircled by the Laramie Mountains on the east and north and by the Medicine Bow Mountains on the south and west. The plains and surrounding mountains with their national forests, streams, glacial lakes, varied wildlife, and eternal snow afford the finest facilities for both summer and winter recreation.

The 7,200-foot altitude of the campus assures a delightful climate with abundant sunshine and invigorating atmosphere.

Laramie is served by Interstate Highway 80, U.S. Highways 30 and 287, State Highway 130-230, and the Laramie Regional Airport.