School of Pharmacy
Health Sciences, Room 292
1000 E. University Ave.
Dept. 3375
Laramie, WY 82071
Phone: (307) 766-6120
Fax: (307) 766-2953
Email:
uwpharmacy@uwyo.edu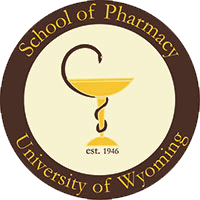 Graduation Rate and Graduate Performance
The University of Wyoming School of Pharmacy program continually measures student achievement and success. Below are tables showing on-time graduation rates, NAPLEX results for first-time takers, and post-graduate plans.
Graduation rate
| | | | | | |
| --- | --- | --- | --- | --- | --- |
| Graduating Class | 2010 | 2011 | 2012 | 2013 | 2014 |
| # of students in entering class | 52 | 51 | 50 | 49 | 51 |
| % graduated in 4 years | 78% | 84% | 88% | 75% | 75% |
| % graduated in >4 years | 17% | 9% | 6% | 12% | 18% |
NAPLEX pass rates
| | |
| --- | --- |
| Graduating Class | NAPLEX |
| Year | |
| 2014 | 100% |
| 2013 | 95% |
| 2012 | 100% |
| 2011 | 97.96% |
| 2010 | 95.74% |
| 2009 | 96.08% |
Post-graduate plans
Each year, the School of Pharmacy asks graduates about their plans following graduation. Their plans are summarized below:
| | | | | | | | | |
| --- | --- | --- | --- | --- | --- | --- | --- | --- |
| Graduating Class | 2007 | 2008 | 2009 | 2010 | 2011 | 2012 | 2013 | 2014 |
| | | | | | | | | |
| Residency | 11% | 22% | 16% | 13% | 21% | 25% | 17% | 21% |
| Community/Retail Pharmacy | 57% | 46% | 35% | 47% | 42% | 20% | 44% | 51% |
| Hospital Pharmacy | 26% | 15% | 8% | 24% | 4% | 12% | 2% | 5% |
| Other | 2% | 2% | 2% | 2% | 0% | 0% | 2% | 5% |
| Unsure or no response | 4% | 15% | 39% | 13% | 33% | 43% | 34% | 19% |