School of Pharmacy
Health Sciences, Room 292
1000 E. University Ave.
Dept. 3375
Laramie, WY 82071
Phone: (307) 766-6120
Fax: (307) 766-2953
Email:
uwpharmacy@uwyo.edu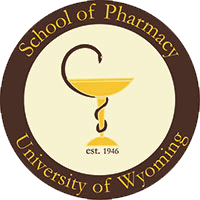 Doctor of Pharmacy Program Description
The University of Wyoming School of Pharmacy community is committed to supporting and promoting individual and collective excellence in teaching, research, service and pharmacy practice. We value responsibility, compassion, respect, and integrity in all endeavors.
Graduates of the University of Wyoming School of Pharmacy are eligible to take pharmacy state board examinations in all 50 states and the District of Columbia.
UW School of Pharmacy Pharm.D. graduates' first-time pass rate for 2014 is 100 percent on the NAPLEX.
Mission
The University of Wyoming School of Pharmacy exists to advance the educational and professional development of our students, generate and translate scientific findings into meaningful innovations in healthcare, and positively impact the health and well-being of the communities we serve. Read the Vision, Mission, Statement of Values, and Goals of the University of Wyoming School of Pharmacy.
Admission
Admission to the professional program leading to the entry-level Pharm. D. degree is limited to 52 students per year and is highly competitive. Admission is granted by the Dean of the School of Pharmacy upon the recommendation of the School of Pharmacy Admissions Committee. Students are admitted to the professional program following a preprofessional program of not less than two years in length with a total of at least 67 semester credit hours.
Students applying to the UW School of Pharmacy must use the PharmCAS application process. All materials (PCAT scores, and letters of recommendation) are submitted to UW using this service. The School of Pharmacy requires no supplemental application.
For more information, check out the following links:
Admissions and Curriculum Brochure
Course of Study
The pharmacy curriculum at the University of Wyoming begins with a two-year preprofessional program followed by the four-year professional program.
The professional program consists of three years of coursework on campus and 40 weeks of experiential coursework performed off-campus. The course of study in the School of Pharmacy is four academic years plus two summer terms leading to a Doctor of Pharmacy degree (Pharm.D.). The coursework is organized in a prescribed, non-negotiable, sequential manner, which provides for an excellent general and professional background. See the Admissions and Curriculum Brochure for detailed information.
Faculty
Professors at the School are experienced in teaching, dedicated to their field, and skilled in clinical service and research. In addition to their teaching and research, faculty members serve as academic advisors. They have been continuously recognized nationally and internationally for their research achievements and contributions to the scientific and clinical fields. See the faculty and staff directory and read more about the school.
Student Profile
The University of Wyoming is committed to diversity and endorses principles of affirmative action. We acknowledge that diversity enriches and sustains our scholarship and promotes equal access to our educational mission. We seek and welcome applications from individuals of all backgrounds, experiences, and perspectives.
As the sole state university, the admitted class to the professional pharmacy program usually consists of approximately 60 percent Wyoming residents. Nonresident students add another perspective to our student body.
Technical Standards for Admission, Curricular Progression and Graduation
The University of Wyoming, School of Pharmacy professional education program, leading to the Doctor of Pharmacy degree and eligibility for licensure as a pharmacist, requires students to possess certain intellectual, behavioral, emotional, physical and technical abilities. Read the University of Wyoming School of Pharmacy Technical Standards for Admission, Curricular Progression and Graduation.
Residency Information
The University Regulations govern the classification of students at the University of Wyoming as resident or non-resident for tuition purposes. 
Student Opportunities
Students in the School of Pharmacy have their own special activities and professional organizations, and also share in the congenial college and university community. While in school, students have many opportunities such as conducting research, submitting abstracts, presenting posters at state and national meetings, participating in medical outreach programs, and participating in national conferences.
Upon admission to the university, students are given access to a wide array of resources, including online texts and databases used in the curriculum.
Facilities
The School of Pharmacy is housed in the Health Sciences Center, which underwent a $20 million remodel in 2006. The building includes faculty offices, classrooms, seminar-study rooms, a student activity area, a student computer-study-reading room, a pharmaceutical care learning center, and well-equipped research laboratories. These, along with modern computer and projection systems, add versatility to the teaching and research facilities.
The School of Pharmacy is one of eight principal units comprising the College of Health Sciences. In addition to pharmacy, divisions in health sciences include medical education and public health, Wyoming Institute for Disabilities (WIND), communication disorders, nursing, kinesiology and health, social work, and dental hygiene.