Contact Us
School of Pharmacy
Health Sciences, Room 292
1000 E. University Ave.
Dept. 3375
Laramie, WY 82071
Phone: (307) 766-6120
Fax: (307) 766-2953
Email: uwpharmacy@uwyo.edu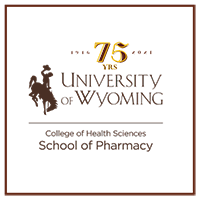 Top 10 Jobs in Pharmacy
Published January 05, 2022 - January 31, 2022
By Alyssa Suderman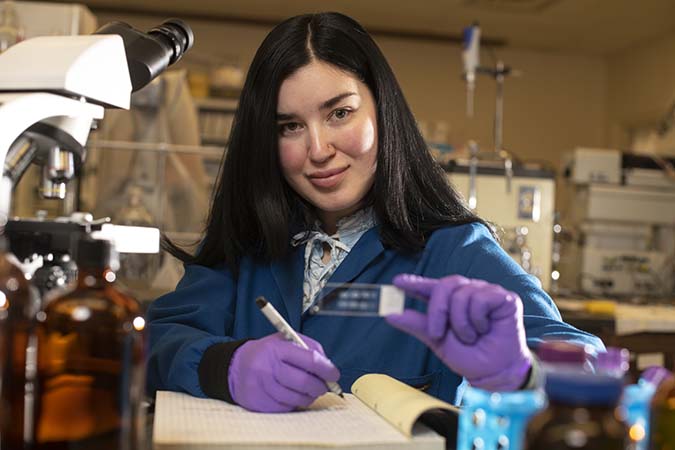 Top 10 Highest-Paying Pharmacy Careers
If you are interested in the healthcare field, specifically relating to patient care and medications/drugs, be sure to explore a pharmacy career! In this profession, you will be working with patients on appropriate use of medications. This provides you the opportunity to make a real difference in the health and wellness of your community. There are many types of pharmacy careers, all of which provide plenty of mental stimulation plus a well-paying salary that could start at six figures! One important thing to note is that for most of these pharmacy career choices, a PharmD at an accredited university is needed. With this level of education and certification, graduates have a multitude of options to choose from! Below is a list of the top 10 high-paying types of pharmacy degree jobs:
1. Community Pharmacist
Typically, when one hears the word 'pharmacist,' they tend to think of someone who works at a local Target or Walgreens in community pharmacies. For many, this is a top pharmacy career choice, as around 42% of pharmacists work in a drug store. As a community pharmacist, you will be in interacting with the general public and with other medical professionals on a regular basis.
Specific Duties
This pharmacy career role requires you to have training in the following:
Preparing and dispensing medications for patients
Educating patients on the correct medication dosages for specific conditions
Advising patients about potential drug side effects
Salary
This pharmacist career path is extremely rewarding in terms of salary. The average national starting salary is $132,305.
2. Clinical Pharmacist
A pharmacy career as a clinical pharmacist requires one to interact with patients on appropriate medication use in hospitals, medical clinics, and other types of health-systems. In this role, you will be working directly with other healthcare professionals and patients and often are part of an integrated team providing direct patient care.
Specific Duties
This pharmacist job is very similar to a community pharmacist, but clinical pharmacists have more extensive responsibilities such as:
Creating a personalized treatment plan for each patient
Assisting other medical professionals in the evaluation of a patient's health condition and advising on the proper medications to use and what dosages to administer
Ensuring that each patient understands the instructions for taking medications
Facilitating the procurement, ordering, and dispensing of speciality medications
In some instances, prescribing and deprescribing medications, and ordering and interpreting labs
Overseeing pharmacy operations and technicians
Salary
This pharmacist job has a base salary of $128,520. You could be making six figures really early on in your career!
3. Hospital Pharmacist
A hospital pharmacist oversees the administration of drugs to patients. This pharmacy career is also concerned with the practice of using IV-focused medication.
Specific Duties
Some of the specific duties required in this particular pharmacy career include:
Ensuring that patients are being properly educated on medications prior to being discharged from hospitals
Being detailed-oriented and meticulous when prescribing medication to patients because an incorrect dosage, frequency, or duration could be detrimental
Coordinating care with a patient's physician or other provider
Salaries
Although this pharmacy specialty can seem daunting due to its requirements for a detail-oriented individual, you will certainly reap the benefits with a starting salary of $123,614.
4. Geriatric Pharmacist
A geriatric pharmacist is a specific type of clinical pharmacist job in which you may perform similar duties as #3. or may be in a management role handling elderly patient care. Those with this specialized pharmacist job may work in a healthcare facility, such as a nursing home or assisted living area.
Specific Duties
This pharmacist career path has similar responsibilities to some general pharmacist jobs and some clinical pharmacist jobs, with the expectation that they are primarily working with older adults. Some daily expectations include:
Prevent adverse side effects by performing regular blood-sugar and blood-pressure tests on patients
Monitor medications and ensure that any new ones won't negatively affect the usage of current medications
Treat elderly patients and explain process of properly taking medications to ensure safety
Salary
On average, a pharmacist job as a geriatric pharmacist will earn you $121,315 per year!
5. Ambulatory Care Pharmacist
For those interested in a public health career where you can work outside of hospital organizations, a pharmacist job as an ambulatory care pharmacist is the career for you. Ambulatory care concerns providing medical services to outpatients in settings such as doctor's offices or medical speciality clinics.
Specific Duties
This pharmacy specialty has daily responsibilities which include:
Co-manage chronic diseases alongside side primary care providers
Manage questions about medication side effects
Identify and resolve drug-related issues for patients
Assist healthcare professionals in improving patients' care before needing to visit an emergency room
Salaries
The starting base salary for this pharmacist job is $119,801.
6. Academic Pharmacist
An academic pharmacist career path is highly rewarding if you are looking to teach the next generation of pharmacists. In this professional pharmacist job, you will work closely with providing students a high-quality education in pharmacy at schools/colleges. However, this role requires expertise and many years of experience in pharmacy. It is not tailored towards those seeking an entry-level position unless you desire to obtain post-graduate training such as a residency or fellowship.  You may also be a great fit for an academic position if you are interested in research after pharmacy school!
Specific Duties
This particular pharmacy career requires you to have superb communication skills, as most of your day-to-day duties at a college include the following:
Participate in scientific research
Educate students in the classroom
Provide education to students in a clinical environment
Work on the development of research projects for students
Salary
The average salary for this pharmacist career path is $115,149.
7. Psychiatric Pharmacist
Imagine a pharmacy specialty career where you can combine your knowledge of both psychology and pharmacy, wouldn't that be nice? Well, there's no need to wait around for your dream pharmacist job anymore because you could become a psychiatrist pharmacist. It is important to note that many professionals complete two years in residency before earning this title.
Specific Duties
This pharmacy specialty as a psychiatric pharmacist has the following daily duties:
Give advice while working on a team with psychiatrists and physicians to produce the best possible outcome for psychiatric patients
Educate others on how certain medications work, and their associated effects
Conduct research on treatments for patients with mental health illnesses
Salary
In this pharmacy specialty, your starting salary will be around $115,426.
8. Drug Information Pharmacist
For those who possess strong communication and analytical skills, a pharmacist job as a drug information specialist could suit you well. You will be doing lots of research on a computer assessing unique drug information requests, so if learning excites you, we have the perfect job for you!
Specific Duties
On a daily basis in this pharmacy specialty role, you are responsible for:
Research obscure findings related to medications and their use, adverse effects
Provide accurate recommendations for drug use
Work with medical providers, law enforcement, poison control and other specialties to provide concise drug information
Salaries
When starting out as a drug information pharmacist, you can make $115,426. This job is in high demand because new drugs are always being researched and discovered.
9. ER Pharmacist
Looking for an adrenaline rush in a fast-paced pharmaceutical industry? The pharmacy specialty career of being an Emergency Room pharmacist could be a perfect fit.
Specific Duties
This pharmacy specialty role as an ER pharmacist requires you to be quick on your feet because when working in emergency medicine, things happen quickly. No two days are the same in this field, but a range of some regular duties include:
Providing quick, yet comprehensive pharmaceutical care for those in the emergency room
Administering medications in a safe and effective manner
Preparing readily available medications for patients and being prepared to answer any questions in an emergency situation
Salaries
This pharmacist career path is quite rewarding, as you could be earning $106,785 annually.
10. Pharmaceutical Scientist
Interested in a science and engineering job? Stop your search because being a pharmaceutical scientist could be the perfect role for you! You will be working in a laboratory researching how different compounds interact with each other, other organisms, and disease-causing cells. The goal is to determine how these compounds impact the human body and if there is potential for it to become a new drug.
Specific Duties
There are many specific responsibilities involved with this pharmaceutical career option. You will be doing the following:
Discovering compounds that have the potential to treat diseases
Conducting many tests to ensure that the new potential drug is safe and effective
Studying how different diseases affect the body (and the associated responses)
Salary
The average salary of a pharmaceutical scientist is $91,857.
A Rewarding Career
It is clear to see that different types of pharmacists each have their own specific responsibilities, but each of the types of pharmacy jobs you can select from also has its own unique benefits. But first, you must complete your undergraduate degree or pre-pharmacy program requirements, and then your pharmacy education before entering the workforce, which can seem like a long time. However, remember that many of the pharmacy careers options have a starting salary of six figures! These pharmacy specialty jobs require you to put in some hard work, but it certainly pays off, as you will have many rewarding opportunities and resources with any of these positions.
Contact Us
School of Pharmacy
Health Sciences, Room 292
1000 E. University Ave.
Dept. 3375
Laramie, WY 82071
Phone: (307) 766-6120
Fax: (307) 766-2953
Email: uwpharmacy@uwyo.edu