School of Pharmacy
Health Sciences Center, Room 292
1000 E. University Ave., Dept. 3375
Laramie, WY 82071
Phone: (307) 766-6120
Fax: (307) 766-2953
Email:
uwpharmacy@uwyo.edu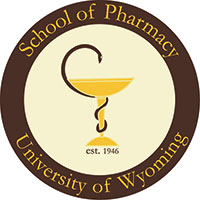 Student Organizations
UW Recognized Student Organizations
Pharmacy Student Organizations
Academy of Student Pharmacists (APhA-ASP)
The mission of the American Pharmacists Association Academy of Student Pharmacists is to be the collective voice of student pharmacists, to provide opportunities for professional growth, and to envision and actively promote the future of pharmacy.
American Society of Health-System Pharmacists (ASHP)

The mission of the Wyoming Student Society is to make students aware of pharmacy practice in health systems, provide information about pharmacy careers, and encourage credentials in the field of pharmaceuticals.
National Community Pharmacists Association at the University of Wyoming (NCPA)
To provide a forum for students to learn about career opportunities available in independent pharmacy practice.
Phi Delta Chi - Pharmacy Fraternity (PDC)

Recognizing the necessity of, and the mutual benefits to be derived from, an organization devoted to the sciences of pharmacy and chemistry; a careful investigation into and a free discussion of subjects relative to the same.
Phi Lambda Sigma - Alpha Nu Chapter (PLS)
The encouragement, recognition, and promotion of leadership in pharmacy. Special attention shall be given to the development of leadership qualities.
Rho Chi Society - Beta Phi Chapter (RCS)
Promotion of scholarship, friendship, and recognition of high attainment in the pharmaceutical sciences.
Share This Page: