School of Pharmacy
Health Sciences Center, Room 292
1000 E. University Ave., Dept. 3375
Laramie, WY 82071
Phone: (307) 766-6120
Fax: (307) 766-2953
Email:
uwpharmacy@uwyo.edu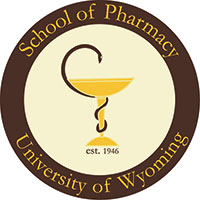 Beth Young
Team Manager, Virtual Pharmacists Project
Beth Young is the team leader for the Virtual Pharmacist Program operated out of the University of Wyoming School of Pharmacy. The Virtual Pharmacist Program, one project within the Wyoming Health Care Innovation Award, aims to link pharmacists to primary care in Wyoming. The goals of the program are to increase medication adherence in particular populations, increase continuity of care between providers and other members of a patient's care team, and help educate patients about their health and health management.

Young was briefly involved in a health policy innovation position before accepting the position with the School of Pharmacy. She has written multiple grants, many of which have received funding.

Young obtained her Masters of Science from the University of Wyoming in 2008. Her thesis examined social determinants of exercise and physical activity behaviors in older adults; however, her additional research interests and projects focused on stress and motivation. She continues to be interested in concepts of motivation and how stress impacts one's level of motivation.

Immediately following the completion of her degree, Young went to work for the Albany County Public Health agency in emergency preparedness and response. She spoke at multiple state and national conferences, and presented multiple times on stress and motivation during disaster/emergency situations at the Centers for Disease Control in Atlanta. The highlight of her public and community health career was spent as a member of the incident management team during the Squirrel Creek Fire of 2012.

In an effort to further creativity and fresh perspectives within her work, Young welcomed more than six UW interns while she was at Public Health. She also partnered with multiple faculty and students at UW to develop the first Collegiate Preparedness and Response Corps (CRPC), which utilized the expertise of primarily School of Pharmacy students to help respond to a national disaster. She continues to engage with this highly innovative group.

Young is interested in enhancing understanding of and promoting development of interprofessional care teams. She encourages collaboration across academic disciplines and hopes to someday offer a course to share these interests. She plans to instruct the HLED 3020 course in community health beginning in Spring 2014.

Young co-founded a full-service marketing and strategy company in 2013, fosters Great Danes, and plans to race her JCW Mini Cooper.