School of Pharmacy
Health Sciences Center, Room 292
1000 E. University Ave., Dept. 3375
Laramie, WY 82071
Phone: (307) 766-6120
Fax: (307) 766-2953
Email:
uwpharmacy@uwyo.edu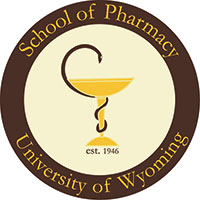 Suzanne Clark, Ph.D.
Assistant Professor of Pharmacology
suzanne.clark@uwyo.edu • (307)-766-4198 • HS 480
Best Mode of Communication: E-mail
Office Hours: 3-5 Mon, 9-10 Wed., 1-2 Thurs
Research Interests:
Neuroscience, Epilepsy, Neurotoxicology
Teaching:
Pathophysiology I and II
Publications:
REFEREED CHAPTERS IN BOOKS
Clark, S., and Wilson, W. A., Acute Epileptogenesis: Models and Possible Mechanisms. In: Contemporary Neuropharmacology; Pathogenesis, Neurotransmitters and Drug Action - Epilepsy. R. A. Gross & J. T. Greenamyre (Eds.) Humana Press, Totowa, NJ. (in press).
Dudek, F.E., Clark, S., Williams, P.A., Grabenstatter, H.L., (2006) Kainate-induced status epilepticus: A chronic model of acquired epilepsy, in: Models of Seizures and Epilepsy, Pitkanen, A., Schwartzkroin, P.A., and Moshe, S. (Eds.) Elsevier, Amsterdam, pp. 415-432.
Clark, S., Wilson, W.A., Delgado-Escueta, A.V.,(1999) Initiation, synchronization, and spread of epileptic discharges. Introduction. Adv Neurol,. 79: 603-5.
Clark S., Wilson W.A., and Delgado-Escueta, A.V. (1999) Epileptic cell damage and epileptogenesis. Adv Neurol 79:735-6.
Clark, S., and Wilson, W.A., (1999) Mechanisms of epileptogenesis. Adv Neurol.,79: 607-30.
Clark, S. and Wilson, W. A. (1997) The mechanisms of epileptogenesis and the expression of epileptiform activity. In: Wyllie, E., (Ed.) The Treatment of Epilepsy, Second Edition, Williams & Wilkins, Baltimore, Md., pp. 53-81.
REFEREED JOURNAL ARTICLES
Williams P, White A, Ferraro D, Clark S, Staley K, Dudek FE, The use of radiotelemetry to evaluate electrographic seizures in rats with kainate-induced epilepsy. J Neurosci Methods. 2006;155:39-48.
Jin, R, Clark, S., Weeks, A.M., Dudman, J. T., Gouaux. E., Partin, K.M., Mechanism of positive allosteric modulators acting on AMPA receptors. J. Neurosci. 2005;25:9027-9036.
Leever J.D., Clark S., Weeks A.M., Partin K.M., (2003) Identification of a site in GluR1 and GluR2 that is important for modulation of deactivation and desensitization. Mol Pharmacol 64(1): 5-10.
Kang-Park, M.-H., Sarda, M.A., Jones, K.H., Moore, S.D., Shenolikar, S., Clark, S., Wilson, W.A., (2003) Protein phosphatases mediate depotentiation induced by high-intensity theta-burst stimulation: a mechanism of seizure-induced amnesia?, J. Neurophysiology, Feb; 89(2): 684-90.
Li, Q., Clark, S., Lewis, D.V., Wilson, W. A., (2002) MK-801, an NMDA receptor antagonist, modulates the inhibitory postsynaptic currents (IPSCs) in pyramidal neurons in rat cingulate/retrosplenial cortices (2002). J. Neurosci. 22(8): 3070-80.22(8): 3070-80
Guo-Ross, S., Clark, S., Montoya, D., Jones, K., Obernier, J., Shetty, A., White, A., Wilson, W.A., Swartzwelder, H. S., (2001) Prenatal choline supplementation protects against postnatal neurotoxicity. J. Neurosci. 22:1-6.
Hosford, D.A., Clark, S., Cao, Z., Wilson, W.A., Lin, F.-H., Morrisett, R.A., and Huin, A. (1992) The role of GABAB receptor activation in absence seizures of lethargic (lh/lh) mice. Science 257: 398-401.
Stasheff, S.F., Anderson, W.W., Clark, S., and Wilson, W.A. (1989) NMDA antagonists differentiate epileptogenesis from seizure expression in an in vitro model. Science 245:648-651.
Service:
U Wyo Pharmacy CE, EPSCoR Student mentor
Affiliations, Associations, Consultation:
Society for Neuroscience, American Epilepsy Society, New York Academy of Sciences, Licensed pharmacist in North Carolina and Colorado, UWyo Alumni Assoc. (Lifetime)
Share This Page: