School of Pharmacy
Health Sciences Center, Room 292
1000 E. University Ave., Dept. 3375
Laramie, WY 82071
Phone: (307) 766-6120
Fax: (307) 766-2953
Email:
uwpharmacy@uwyo.edu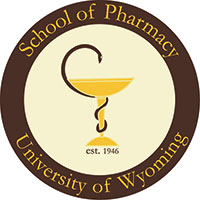 Giving to the School of Pharmacy
The School of Pharmacy is grateful to the many generous donors who support our students, faculty, and our program. Gifts to both the annual fund and major giving help the University of Wyoming School of Pharmacy fund top priorities of undergraduate and graduate student support, faculty support for travel, research and teaching, and discretionary dollars to provide for unexpected needs including a student support fund.
---
Witzeling Scholarship Endowment will Benefit Pharmacy Students

February 21, 2014 — UW School of Pharmacy alumnus Kenneth Witzeling (BSP '51) and his wife, Elizabeth, from Powell, Wyoming, donated his extensive coin collection to the University of Wyoming to create the Kenneth and Elizabeth Witzeling Pharmacy Scholarship endowment. This scholarship will be awarded to year two through year four pharmacy students from Park County, Wyoming, with a GPA of 3.0 or higher and demonstrated financial need. For more information, read the UW Foundation's article titled, "More than Money."
$1.1 Million Gift From the Estate of Alumna Linda Wells
February 19, 2009 — A more than $1.1 million gift from the estate of Wyoming native Dr. Linda Wells (BSP '70) to the University of Wyoming School of Pharmacy in 2009 will help fund research graduate assistants and provide scholarships for UW pharmacy students. It is the largest gift ever presented to the pharmacy school. Dr. Wells, who died December 14, 2008, was a longtime benefactor of the UW School of Pharmacy. The Pharmacy Learning Resources Center, HS 291, was re-named the "Linda L. Wells Student Learning Center" in her honor.
---
How to Give:
Contact the University of Wyoming Foundation
Share This Page: