Alumnus Wendall Gaston Receives APhA's Hubert H. Humphrey Award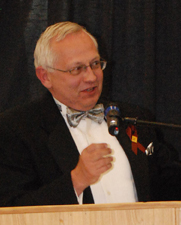 Alumnus Wendall F. Gaston (B.S.P. '76), is the 2011 recipient of the American Pharmacists Association (APhA) Hubert H. Humphrey Award. Gaston was selected in recognition of his lifelong dedication to the profession of pharmacy and passion for healthcare, politics, community and public service as well as his commitment to make life better for the citizens of Sidney, Nebr., where he lives and works, and for the citizens of the state of Nebraska.
The award, named for Hubert H. Humphrey, a noted pharmacist and former Vice President of the United States, was established in 1978 to recognize APhA members who have made major contributions in government and legislative service at the local, state or national level. Gaston was officially recognized at the APhA Annual Meeting and Exposition in Seattle, Wash., March 25–28, 2011. APhA's awards program is pharmacy's most comprehensive recognition program.
In a nomination letter a colleague commented, "Wendall's dedication to public service and love of community service are the only things that surpass his love of pharmacy. He understands the important impact that constituents and elected officials have on the policies made because of his own experiences and relationships with elected officials. If pharmacy needs a voice in Nebraska, I can count on Wendall to be that voice—clearly, compassionately and respectfully making his case on the issue at hand."
Another colleague noted, "Wendall puts his values, ethics and reputation on the line with every public decision he makes. In fact he was solely responsible for Sidney's City Council adopting a Code of Ethics to drive their conduct as public officials. He has the political courage to go against the grain, stand up for his beliefs and right the wrongs of others, for the betterment of his community and citizen constituents."
Gaston has more than 30 years professional pharmacy experience and 10 pharmacy certifications and licensures. He is currently the pharmacy manager at Safeway Food and Drug in Sidney, Nebr. He also serves on the Sidney City Council, where he recently served terms as both mayor and vice mayor.
Gaston is an active member of several national association pharmacy associations including APhA, NCPA, ACA and NABP. He also is a member of several local civic organizations such as the Cheyenne County Chamber of Commerce. Gaston has received more than 200 civic and professional awards. He is a well-known motivational speaker and presents seminars on various topics all over the country.
Gaston earned his bachelor of science in pharmacy from the University of Wyoming, received his Pharm.D. from the University of Kansas and his MBA from the University of Nebraska. He continues to be active within the University of Wyoming School of Pharmacy, providing mentorship to student pharmacists, instruction to a management class, and serving as master of ceremonies for the school's Annual Honors and Awards Banquet. He has also been a member of the school's Advisory Committee since it was formed in 2004. Gaston credits his experience at the University of Wyoming for molding his professional life and career.