2011 CHS Grand Rounds Research Day April 1st
SOP Faculty, Researchers and Students to Present Posters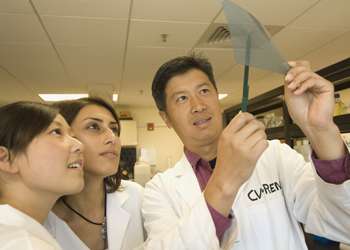 The College of Health Sciences 2011 Grand Rounds Research Day will be held April 1st in the Family Room of the Wyoming Union. This year's theme will be mental health, with national, regional, and on-campus experts addressing a range of topics relating to mental health in general and specific issues pertinent to Wyoming.
In addition to the speakers, there will be a series of poster presentations, many by School of Pharmacy faculty, researchers and students.
See the full schedule of events and list of poster presentations.
Photo:
Professor Jun Ren (R) discusses research results with Yinan Hua, BMS Ph.D. student, and Research Scientist Asli Ceylan-Isik.